Serbia is the country in which I decided to celebrate New Year's in 2016 and during my days there I ended up seeing almost half a country in just a few days. In short, I have passed through the eastern and central part of Serbia, my main stops being Vrnjačka Banja, Goč, Kopaonik and Belgrade. This article covers the first two locations. If you're interested in seeing what Belgrade has to offer, go to the next one to read about my experience there. Let the story begin!
Vrnjačka Banja and Goč
After a long road trip in the eastern part of Serbia, I made a quick stop in Vrnjačka Banja, situated in Raška District. The town has several tourist attractions, such as medieval monastery Ljubostinja, Belimarković Castle, seven mineral springs and a Bridge of Love with padlocks attached, similar to Pont des Arts in Paris.
Before I left, I looked for an exchange office, as I needed to change euro into Serbian dinars. First thing I've seen was a local bank and when I initiated the "trade" (in English of course), I was very surprised to see all the bank employees looking at me oddly. Not a single one of them knew English, they just muttered some Serbian words and then pointed vaguely to an exchange office across the street. As I got there, the language barrier struck again. Using the most basic sign language I could possible think of, I managed to achieve my goal. First lesson learned: next time I come to Serbia I'll make sure I buy a conversation handbook first.
In the meantime it started to snow and get cold, so I took one of the two roads that lead to Goč village (15 km south of Vrnjačka Banja). Soon, I found my choice to be very poor, mainly because of the icy road with steep gradients. Needless to say that half way my car stubbornly refused to advance in those conditions and I found myself forced to slowly drive back in town and take the other road, which was the one on the left. This time I was lucky, as it was just cleared of snow and ice. It wasn't until the next day that I found out from the locals the reason why: that road was the one that led to the mayor's house. All of a sudden it all made sense.
The route has several points from where you can see the beautiful lights of Vrnjačka Banja, brightening the horizon. When I finally arrived to my destination, a feeling of deep silence and peace took over me. It's a rather wild area, with small and scattered population. Therefore, up to the top, in an isolated open space, I've seen the clearest night sky of my life. It was a magical moment, one that I'll probably always remember.
The next day I explored the nearby mountains, valleys, tablelands and forests. You can find below a small selection of photos that I took that day: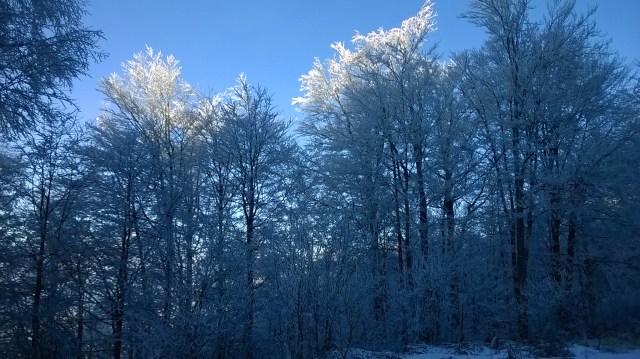 In the evening, a local family invited me to try some traditional food and drinks. From them all, I liked the most their home made cheese and "rakija", which is a kind of brandy and the national drink of Serbia. Speaking with them about my experiences so far, I told them about my walk in the deep woods and about some strange footsteps that I've seen in the fresh fallen snow. In my naivety I thought that they were dog footsteps, but I found out that they were actually made by wolves. Moreover, the Serbians told me that the area is full of wild boars, wolves and bears and that I shouldn't go again in the woods without any kind of protection. That was my second lesson learned in this country. A very important one, I would add.
Kopaonik ski resort
The third day, I drove about 80 km to Kopaonik, the largest ski resort in Serbia. When I got there, I was pleasantly surprised by it's buildings specific architecture. In my opinion, Kopaonik is not just one of the best ski resorts in Serbia, it's also one of the best in Europe – easily comparable to those in Switzerland and Austria.
In Kopaonik the ski season opens in November and ends in March, thanks to the artificial snowing systems that cover 97% of the resort. The runs have different levels of difficulty, being suitable for all skiers no matter how skilled they are. For kids and absolute beginners the resort offers a secured area, specially made to help them learn faster the basic skills.
When it comes to costs, don't expect it to be a very cheap resort, but it's not very expensive either. It's not a very good idea to shop here, as you can find a humdrum sweater for 350 EUR or more. After Christmas almost everything had discounts, but I still wouldn't spend my money on shopping there.
Overall, I would say that Kopaonik is a must see winter destination, as it's one of the best ski resorts I've ever seen. And if you get bored of civilization, you can always get in the car and explore the surroundings. You won't be disappointed.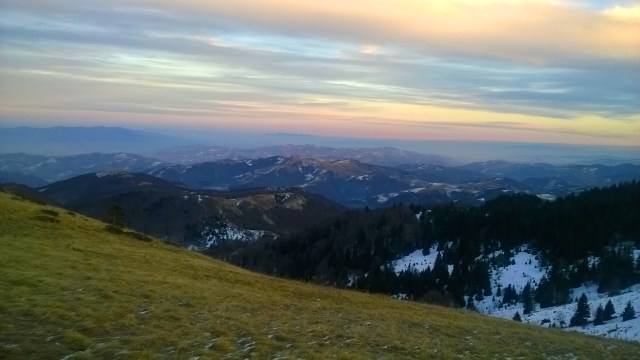 To read the second part, check the next article, about my days in Belgrade.
I sure had an amazing time in Serbia during the winter. How about you? Do you love going to the mountain side and trying all kind of winter sports? Comment down below and tell us all know what you think!