Wanderlust took over me once again, so I decided to make a quick getaway for a weekend. This time I chose Bulgaria as my destination, making the trip my third visit to this country. But I must say, this was my favorite from them all. As I have a soft spot for medieval cities, I decided to see the 'City of the Tsars', Veliko Tarnovo. This was the capital of the Second Bulgarian Empire and is one of the oldest cities in Bulgaria. Moreover, it has an incredible stronghold – Tsarevets Fortress – which I just had to see!
Stairs. Stairs everywhere.
Before I start, I must warn you: if you are the type of person who likes to explore thoroughly the places you visit, then you should consider getting physically prepared for this city. There are long strings of stairs everywhere. It will leave you breathless. Literally.
First, let's explore Tsarevets Fortress. If you're not in a hurry, take my advice and reserve a whole day to wander around. I don't even have to tell you how to get there, because you will know. The fortress is big, visible and it dominates the city's skyline.
Useful tips
Before you dash towards the fortress, there are some things you need to know. First, look around. Somewhere on the left side there will be a ticket office. It's nothing fancy, so you'll probably have to look more than once to find it. Useful tip: If you are a student you can buy a ticket for 2 leva (1 euro), instead of paying the full price of 6 leva (about 3 euro). Perfect if you're on a budget! Here it doesn't matter if you have on you a national or an international student card. Moreover, every last Thursday of the month you can visit Tsarevets Fortress for free! How cool is that?
If you visit during summertime, make sure you take water with you because the heat is often merciless. Also, consider covering your head with a hat, a cap or a wide headband. If possible, start your exploration in the morning, take a break during noon and have a nice picnic under the cool shade of a tree, while enjoying the views. Also, be sure to stick around for the sunset and later on for a spectacular light show. And just to be sure you return in one piece, be careful how you walk. In some place there are potholes, slippery stone steps and even missing steps & handrails.
Now that you have your survival kit ready, you may proceed to walk the stone path that leads to the main entrance gates.
The Tsarevets Fortress complex
Except you are a skilled clairvoyant that can easily see past events, you might be a little disappointed with the lack of information boards translated in English. Don't worry though, I have your back. The fortress stands up with two main attractions: The Royal Palace and the Bulgarian Patriarchy. However, you will find yourself surrounded by many other ruins, of all shapes and sizes. These are the remains of over 20 churches, 4 monasteries, 400 houses, several watch towers and more. Still, most of what you see today was reconstructed over the years.
The Bulgarian Patriarchy
Now head towards the church on the top of the hill. I personally prefer more the outside rather the inside, which has pretty dark and nightmarish frescoes. As I  was breaking my neck to look at them, I stumbled upon a stone step and almost landed in the arms of another tourist. Needless to say that my tripping resonated even in the smallest corner of the church and everyone looked at me to see what happened. And what did I do? I smiled very awkwardly, muttered a silent 'I'm ok', then turned towards the exit. That's exactly what any other normal human being would do, right?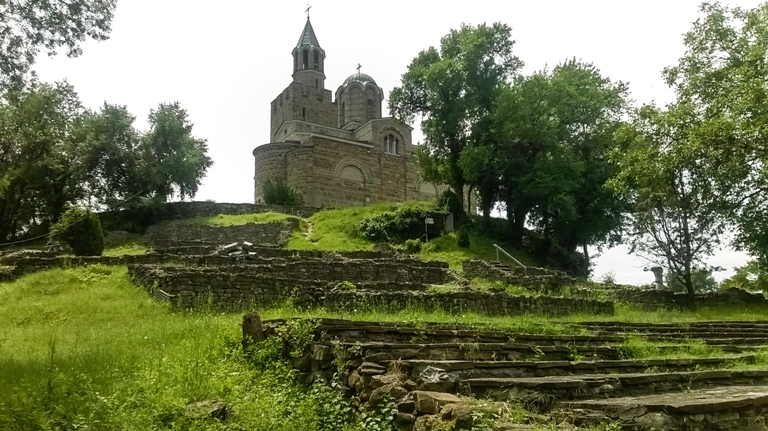 The Royal Palace
After leaving the top of the hill, I went to the Royal Palace. Even though it has lost most of it's former resplendence, it's fun to explore. Don't be afraid to come closer, enter the dark chambers or climb it's stairs. You can even get to it's roof!
The view from the walls and watch towers
Now it's time to head towards the fortress walls. Be careful, don't walk along the walls if you suffer of vertigo and always be very careful where you step. There are loose and slippery stones everywhere and for your own sake falling just isn't an option. In some places, the walls are 10 meters high and if you still think you can somehow make it out alive, remember that hundreds of years ago, those walls were used to execute traitors by being pushed to their deaths.
From place to place, you can find watch towers that will give you a breathtaking view of both the city of Veliko Tarnovo and Yantra River.
If you're spending the night in the city, make sure you come back to the fortress at 9:30 PM to see an audiovisual show that combines music, lasers and church bells.
Other things to see in Veliko Tarnovo
What else you can do in this unique medieval city? Go sightseeing. Pretty impressive is The Assens Monument, a landmark easy to be spotted from many places of the town. It's basically a complex of statues representing four horsemen with a sword in the middle of them. The statues depict four Bulgarian Tsars: Peter, Assen, Ivan Assen II and Kaloyan.
Veliko Tarnovo has an unique architecture and a distinctive way of building houses right on the hillside, giving them a 'layered' look. Therefore, the majority of streets are made of stone stairs and are very narrow. Exploring these streets is sometimes exhausting, especially if you're like me, meaning you're not used to climbing more than 20 stair steps at once.
I hope you now have a good idea of what's in for you if you decide to come in this medieval paradise. Come on, The City of the Tsars has far more stories to tell! Also, if this post caught your attention and you want to find more about this country, you might be interested in reading 10 amazing facts about Bulgaria that you probably didn't know!