When you have a shoestring budget for your travels, you usually have two options. The first option is to take a car/bus/train ride to a place that's not too far from your home. The second option is to find a cheap plane ticket to a destination (usually abroad) and fly there. When thinking about visiting a foreign country, many prefer to start with the capital for a number of reasons, like transportation convenience and range of stuff to do there. Europe offers quite a lot of choices for budget travelers, especially in countries located in its Southern, Eastern, and Central part of it. You can find below a list of the most 5 affordable capitals in Europe, that can promise a good time without digging a hole in your wallet.
Disclaimer: Inspired To Explore website is supported by our users. This page contains affiliate links. If you choose to purchase after clicking a link, I may receive a commission at no extra cost to you.
1. Budapest
Budapest is the capital of Hungary and one of the most beautiful cities in Europe. Besides the fact that Budapest has a low overall cost of living (accommodation, food, drinks) compared with other European capitals, the city offers a wide selection of free or cheap activities. Just to name a few:
Let tram 2 take you on a sightseeing tour. Tram 2 runs by the riverside of Danube, from Jászai Mari Square all the way to the National Theater. One ticket costs around 1 euro, so this is probably the cheapest way to see a great number of city attractions fast. Still, I would recommend buying a 24-hour ticket, so you can hop on and off and visit everything more thoroughly. What you can expect to see along the way? The Parliament, Margaret Island, Chain Bridge, Elisabeth Bridge, Buda Castle (on the other side of the river) and many more.
Visit Fisherman's Bastion, the panoramic lookout point located on the "Buda" side of the Danube, from where you can enjoy a beautiful sunset while looking at the Parliament Building, the majestic bridges and the calm flow of the river. No charge here either. However, you can choose to drink a coffee or a glass of wine, depending on your preferences, at a reasonable price in one of the local restaurants available there.
Enjoy the nightlife by exploring Ruin Bars. Ruin bars are basically formerly abandoned buildings that were transformed into party locations. Among all the places that I visited around Europe, Budapest holds one of the top three places when it comes to the variety of options regarding nightlife. If you want to have a good time, but don't want to spend a lot in these bars, have a few drinks before going in. You can even do this while sitting in a park. One of the first things that a guide told me during a tour of the city, was that drinking in public space is something very common and it won't get you in trouble with the law enforcement (although theoretically, it's not legal).
Try Hungarian specific foods: Langos, Chimney Cake, Goulash. Making new culinary experiments is always on my list. The food isn't expensive at all in Budapest, so go ahead and try as many things as you can. You'll love some, maybe hate others (for me it was the strawberry soup), but that's the beauty of it. Either way, there is something that nobody can resist: The Chimney Cake. Even if you're on a diet, there is no way you won't get a second one.
Watch the city lights from the Liberty Statue viewpoint. Located on Gellért Hill, this place can be reached with a small hike to the top, in approximately 15 minutes. You can go there to watch the sunset or, even better, to admire how the city lights up at night.
Take a walk around Margaret Island. There are so many free things to do on this beautiful island located in the middle of the Danube. Take a long walk, admire the flower gardens, visit the zoo, visit medieval ruins and much more. Bring along a picnic basket and you can easily spend an entire day here with no additional costs.
Cheap accommodation in Budapest
Budapest offers a wide selection of hostels to help you reduce the cost of your stay to the max. Here's a few recommendations to consider: Avenue Hostel, Comebackpackers, Island Hostel Budapest, Vitae Hostel, Das Nest Budapest, Central Market Hall Zen Hostel or Adagio Hostel 2.0 Basilica, all with excellent locations and great value for money. I also recommend Budapest Bed and Breakfast for their amazing services, or Omega Apartments Budapest if you want a whole apartment for yourself. Hotels are more expensive, but Thomas Hotel Budapest is one of the best low-cost options in town.
2. Sarajevo
Sarajevo is still not getting the credit it deserves among European tourist destinations, but it's getting there. The capital of Bosnia and Herzegovina will amaze you for sure with its food, cultural diversity and good vibes.
Wander the streets of Baščaršija. Discover craft shops and laid back restaurant while you walk the narrow streets of this central district that once was an Ottoman bazaar. The shops have the goods displayed right outside, pretty similar to the way merchants display their products in countries like Turkey or Morocco. The difference is that the markets in Sarajevo are far quieter and more relaxing to wander than the other two.
Explore The Yellow Fortress. The Yellow Fortress, also known as Jekovac Fortress (after the name of the cliff on which it is located), was built in the 1700s to defend Vratnik City. You have to face some steep slopes to get to the top, but the view is worth it. Moreover, it is completely free to visit.
Enjoy the religious diversity. Did you know that Sarajevo is one of the few major cities of Europe where an Orthodox church, Catholic church, mosque, and synagogue coexist in total harmony in the same neighborhood? You can visit as many as you want for free, just keep in mind that some rules may apply in some places (dress code, no access during certain hours).
Dive into the history of WWI. Sarajevo was the place where the assassination of Archduke Franz Ferdinand took place. Following this event, World War I started. If you're interested to see the exact place, just go to the Latin Bridge, built in the 1500s by the Ottomans over the river Miljacka.
Try Bosnian coffee in the morning, rakija in the evening. You'll soon find out that the Balkan people don't mess around when it comes to their drinks. The coffee is pitch black and a shot of rakija is pure liquid courage. You'll be surprised how little money you'll need for drinks on a night out, so get the party going!
Cheap accommodation in Sarajevo
Sarajevo only has a handful of hostels, but don't worry, there are MUCH cheaper options in town than hostels (and with better facilities). Some good low-cost options are Sarajevo Rooms, Ada Apartman. For something more special, but still at a great price, check out the bungalows from Bulgalovi Lana. They are outside of the city, but offer a lot of quiet and amazing views. For a modern apartment, consider Apartment UNA and for a unique experience over the city center, take a look at the view of this apartment.
3. Bucharest
Bucharest is another East-European capital that would make a great city-break… without breaking your wallet. Here are some reasons to visit that support my statement:
Explore the city with cheap public transportation. First of all, if you arrive to Bucharest by flying, you'll be thrilled to know that a bus ticket from the airport to the city center costs less than 1 euro. The normal bus tickets are even cheaper than that and the same goes for the metro. Therefore, you will have a lot of freedom to explore different parts of the city in a short time.
Emerge in a mix of architectural styles. Although the communist era deeply left a mark on the city's architecture, Bucharest city center displays a wider range of styles: Baroque, Art Nouveau, Eclecticism, Neoclassical, along with Modernist buildings. The best way to experience that diversity is to take a stroll on the boulevard called Calea Victoriei, from one end to another. As you do, you'll walk past buildings like Cantacuzino Palace (housing George Enescu Museum), Romanian Athenaeum, The Royal Palace (housing The National Art Museum), The CEC Palace or Kretzulescu Church, all architectural landmarks of the city. And speaking of buildings, seeing the Palace of the Parliament is a must. It is hard to miss anyway, as it is the second-largest administrative building in the world, after the Pentagon.
Party all day, all night. From all the capital cities that I visited (so far) in Europe, Bucharest has the most animated partying scene, although Budapest also comes very close in my personal opinion. There are so many bars, pubs, and clubs in the Old Town, that it is nearly impossible to not find one to your taste. The best thing is that the drinks are fairly cheap, meaning that in general, you can buy a beer with roughly 2 euro. If the night is over but your feet can take a little more dancing, there are a lot of after-parties you can attend.
Museum-lovers, unite! Forget about avoiding to enter a museum for fear that you'll have to pay 15, 20 or 30 euro for a ticket. Whether you're interested in art, culture or history, Bucharest has some interesting museums for you, most of which are very cheap. Moreover, you'll be happy to hear that if you visit them on certain days, admission is free. For example, The National Museum of Art of Romania is free to visit on the first Wednesday of every month (Note: the information is not on the museum's website, but don't worry, I checked).
Visit a gorgeous bookstore. It the heart of the noisy Old Town, there is a place of peace and quiet – Carturesti Carusel. Visiting a bookstore may not be everyone's cup of tea, but in this case, we're talking about a place often called one of the most beautiful bookstores in the world, so you should definitely give it a try. Be amazed by the aesthetically pleasant interior design, with all-white walls and staircases. Just imagine how good it will look on your Instagram feed!
Cheap accommodation in Bucharest
All kinds of cheap accommodation are available in Bucharest, but mostly apartments. For example, this Bucharest Center Villa or this Charming Studio. Or maybe this one: Smart Rooms Bucharest. Want a fun and youthful hostel? First Hostel would be my first choice if I was on a budget. There are also cheap, decent hotels in Bucharest, like Hotel Uranus.
4. Belgrade
Among other capital cities of Europe, Belgrade can be easily overlooked by travelers that prefer more popular budget destinations, like Budapest for example. Still, there are some good reasons Belgrade could be your next getaway.
Tram 2, we meet again. Just like Budapest, Belgrade has its own tram 2 that takes you on a sightseeing tour. The tram circles around the central part of the city, giving easy access to the Main Railway Station, the Danube riverside, Kalemegdan Fortress, Skadarlija neighborhood and more. Again, buy a 24-hour pass to be able to get off the tram whenever something catches your eye. It's very cheap (a little over 2 euro for a whole day) and it's totally worth it.
Let the streets tell you their secrets. For example, Knez Mihailova Street. There is just so much to do while walking on this street: shop, eat & drink, admire the architecture of the 19th-century buildings and visit museums (Zepter Muzeum or Heritage House). Also, if you look closely, on some of the buildings' facades (not just here, but all over the city) you can still see the ruins left behind by bombs and bullets dropped and fired in 1999 by NATO troops, in a so-said attempt to end Kosovo War. These scars of the past are left as they are not as much as a result of negligence but as a reminder of the destructive force of conflict.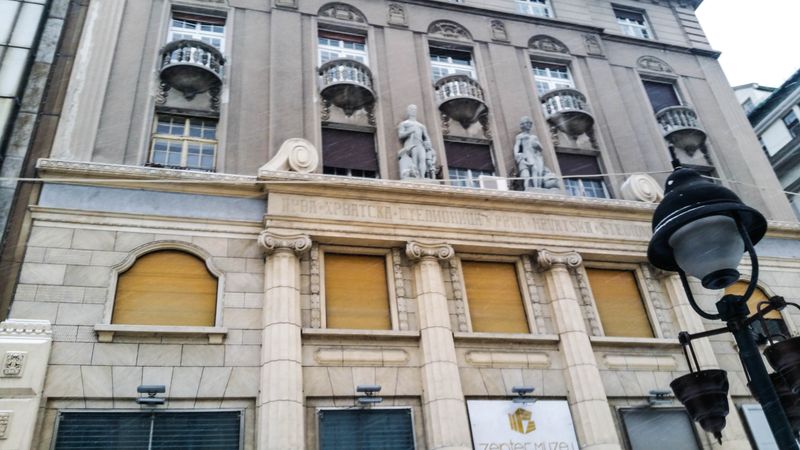 Kalemegdan Fortress. An old fortress free to visit and open to the public 24/7. I dare you to say no to that. I can't hear you, so I'm going to assume you can't. Besides the historic importance of this place, it is also an amazing belvedere spot, from which you can observe the confluence of the Sava and Danube river, as well as the two distinct zones of the city: Novi Beograd and Stari Beograd (Old and New Belgrade).
Church of Saint Sava. The church of Saint Sava ranks among the largest churches in the world. Although it is a bit tricky to get inside (it is still under construction so it's closed at times), you can simply take pictures from outside or visit its stunning crypt.
Cheap accommodation in Belgrade
These hostels in Belgrade are perfect for young travelers: Hostel Fair and Square, Lucky in Hostel and Pop Art Hostel.There are also cheap options for relaxation in resorts. One of them is Kengur Resort, situated in the outskirts of the city. A good option for a modern, studio apartment is Mosaic, conveniently situated in the center of Belgrade.
5. Berlin
Experience most of the major sights for free. Brandenburg Gate, The Holocaust Memorial, the famous Berlin Wall, Checkpoint Charlie, Berliner Dom (admission is free during services), Alexanderplatz – you can see them all without paying a dime!
Photograph your favorite street art. If I were to pick one thing that I love the most about Berlin, that would definitely be the street art. The murals aren't just graffiti scribbles, they feature amazing and elaborate artwork.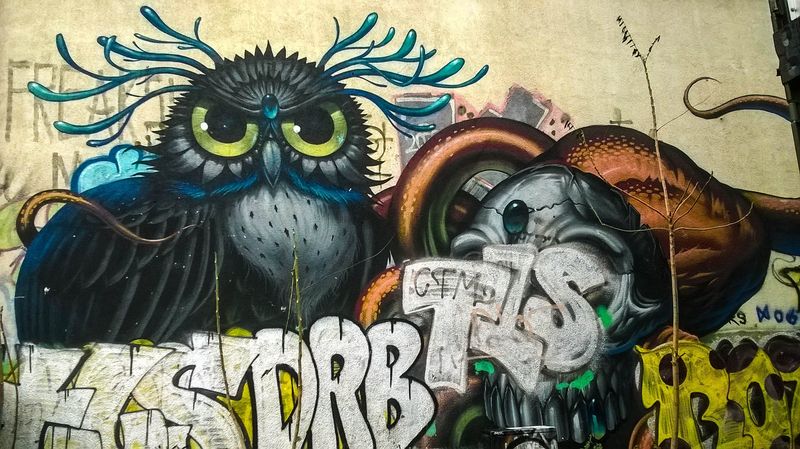 Visit the Dome of the Reichstag Building. This is a glass dome with a rooftop terrace, that offers a 360-degree view over the city. You'll even get an audio guide, available in more than 10 languages. The only requirement is to schedule your visit in advance, by registering online on the German Parliament's website.
Say goodbye to your diet for a few days. Germany is famous for its beer and sausages, so it would be a shame to not try it, considering that such a meal will cost just a few euros. Perfect to satiate your appetite and quench your thirst!
Cheap accommodation in Berlin
Unfortunately, accommodation in Berlin is not as cheap as in the other capital cities mentioned in this list, but you can still find some good options. Here are my top picks: easyHotel Berlin Hackescher Markt, Hotel Pension Waizenegger am Kurfürstendamm or MEININGER Hotel Berlin Mitte. If you want to go for a unique type of hostel, why not choose Space Night Capsule Hostel and pretend you are an astronaut?
Which of these most affordable capitals in Europe would you visit first and why? Also, would you add another city on this list? Let's talk in the comment section below.