Adventure beckons to the human spirit with an irresistible allure, and there are plenty of thrilling places to visit for people who want to experience life in all of its raw beauty. There are countless locations across the world that will fire your spirit of adventure and leave you with lifelong memories, from the icy wilderness of Iceland to the tranquil beauty of the Galápagos Islands. In this exploration of the most adventurous places in the world, I invite you on a journey to discover the destinations that offer not just breathtaking scenery but heart-pounding, pulse-quickening adventures.
Iceland: The Land of Fire and Ice
Standing at the edge of the Arctic Circle, Iceland is the epitome of contrasts, earning its nickname as "The land of fire and ice". On this island you will encounter both mighty volcanoes and majestic glaciers coexisting harmoniously and many options for adventures in the sky, on land and in/on water.
🧗🏽‍♂️ Adventure activities in Iceland: Glacier hiking, ice caving, scuba diving, snorkeling, snowmobiling, rafting, surfing, ATV or buggy riding, mountain biking, Heli-skiing and Heli-snowboarding, paragliding and skydiving, canoeing and kayaking, hiking and trekking, horse riding, dog sledding
Glacier Hiking: Put on crampons and go on a glacier hike on Vatnajökull or Sólheimajökull. You'll travel through a frozen paradise, spotting ice formations and crossing crevasses.
Ice Caving: Explore complex ice caves located deep within glaciers; each one is a one-of-a-kind creation crafted by the forces of nature. A few locations where you can do this activity are: Vatnajökull Glacier (Crystal Cave, Sapphire Ice Cave, and the Crystal Ice Cave), Langjökull Glacier, Mýrdalsjökull Glacier (Katla Ice Cave).
❓ Did you know? Vatnajökull Glacier is the largest glacier in Europe, while one of the two ice caves in Langjökull Glacier has the largest man-made ice tunnel in the world!
Scuba Diving: Discover the cold and crystal-clear waters between tectonic plates and breathtaking underwater scenery with scuba diving in Iceland. Silfra Fissure is among the most well-known places in Iceland for scuba diving. Silfra is a crack between the Eurasian and North American tectonic plates, where the visibility in the water is as high as 100 metres (328 ft). This place offers the unique opportunity to float between two continents.
🥶 Important! Diving in Silfra usually requires a dry suit because of the extremely low water temperatures, but many tour operators provide one in their packages. Make sure to check the details when you book your dive.
Snorkeling: Snorkeling in Iceland is a fantastic way to experience the country's crystal-clear waters and unique underwater landscapes. In Iceland, some of the favorite spots for snorkeling are the Bjarnagjá Rift, Tectonic Fissure in Lake Thingvallavatn (Þingvallavatn), Kleifarvatn Lake, and Silfra Fissure.
❓ Did you know? Lake Thingvallavatn is the largest natural lake in Iceland, having a surface of 84 square kilometers.
Snowmobiling: To explore the country's winter landscapes on a snowmobile as part of a tour, you can choose one of the following locations: Langjökull Glacier, Mýrdalsjökull Glacier, Vatnajökull Glacier or Eyjafjallajökull Glacier.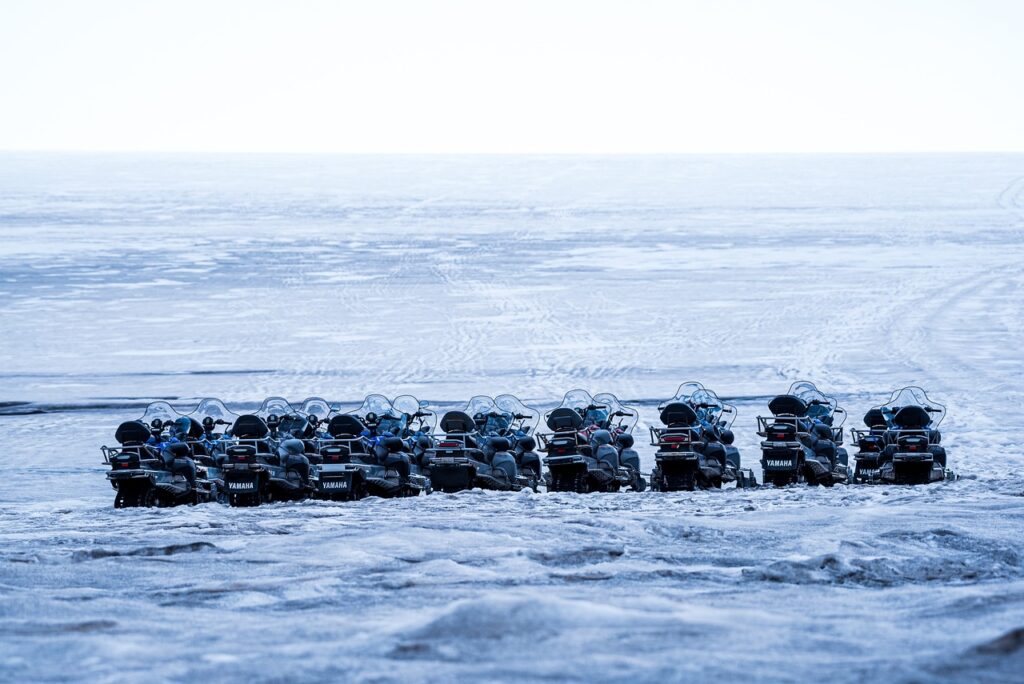 Rafting: Rafting is one of my favorite things to do when it comes to adventure activities. If you feel the same, then Iceland has many locations where you can have such an experience, while going through spectacular landscapes. Check out these rivers with thrilling rapids: Hvita River (Hvítá), East Glacial River (Jokulsa a Dal), West Glacial River (Vestari Jokulsa), Thjorsa River.
⚠️ Important! Because some rivers are more challenging than others, it is necessary to research each option and choose one depending on the level of white-water excitement you seek.
Surfing: Iceland might not fit in the stereotype of surf locations, in the sense that it's not a sunny destination with azure waters, but it sure has world class waves you can ride. As a plus, you'll be surrounded by dramatic coastlines, volcanoes and glaciers. Some popular locations for surfing in Iceland include: Reykjavík, Vesturbaer and Gröndal, Thorlakshofn, Hofn.
⚠️ Important! Keep in mind that the waters in Iceland are cold even in the summer so I really recommend wearing a high quality wet suit to keep you warm. Furthermore, because of Iceland's unpredictable weather, surfing conditions can change quickly, so it's mandatory to look up local surf reports before going to catch waves.
ATV or Buggy Riding: You can explore certain regions of Iceland on ATV or buggy tours, which are both fun and adventurous activities. Depending on which part of the country you choose to go, you can ride through lava fields, geothermal areas, glacial landscapes and more. Some locations to consider: Hafnarfjörður (Reykjavik Area), Mývatn (North Iceland), Vatnajökull (Southeast Iceland), Golden Circle (Southwest Iceland), Snaefellsnes Peninsula (West Iceland).
Mountain Biking: If you're interested in mountain biking – good news! You can enjoy this sport throughout the country. Just make sure you acknowledge and respect local regulations and guidelines for trail use in order to preserve the delicate Icelandic environment.If you're looking for the best places to be or the most popular, look into these options: Reykjavik and surroundings, Landmannalaugar (Southern Highlands), Akureyri (North Iceland), Skagafjordur (Northwest Iceland), Eastfjords (East Iceland).
Heli-skiing and Heli-snowboarding: These activities are not for the faint-hearted. This might be the most extreme sport in this list, because the helicopter drops you off in places that would be hard or impossible to reach otherwise, and these places are very high and steep mountain ridges. Also, these types of backcountry skiing and snowboarding is crazy expensive (easily over 10,000 euro per person), so it's definitely not for everyone. Here are some locations in Iceland known for heli-skiing and heli-snowboarding: Troll Peninsula (Tröllaskagi) and South Iceland Glaciers.
⚠️ Important! Remember that heli-skiing and heli-snowboarding in Iceland are weather-dependent sports, and operators closely monitor weather in order to guarantee safety.
Paragliding and Skydiving: Do you want to have a bird's-eye view of the beautiful scenery that Iceland offers, while having a shot of adrenaline pumped into your veins, you can try paragliding and skydiving. Some locations in Iceland where you can enjoy paragliding and skydiving include: Hella (both paragliding and skydiving), Reykjavik Area (paragliding), Akureyri (paragliding), Vik and the South Coast (paragliding), Golden Circle (paragliding).
🪂 Important! Skydiving is typically offered as a tandem experience due to safety regulations.
Canoeing and kayaking: These types of experiences gives you the opportunity to explore tranquil lakes or to navigate the coastline. Here are some popular locations to consider: Lake Thingvallavatn (kayaking), Hornstrandir Nature Reserve (both kayaking and canoeing), Westman Islands (both kayaking and canoeing), Jokulsarlon Glacier Lagoon (kayaking), Skaftafell National Park (both kayaking and canoeing), West and North Fjords (kayaking).
Hiking and trekking: Iceland's diverse landscapes provide a myriad of amazing hiking and trekking options. A few of the countless hiking and trekking options in Iceland: Landmannalaugar, Thorsmork, Laugavegur Trail, Vatnajokull National Park, Skaftafell, Thingvellir National Park, Akureyri and Eyjafjordur and Husavik.
Horse riding: Icelandic horses provide a unique and enjoyable riding experience because of their small size, friendly nature, and unique gaits. Tours are available for riders of various skill levels, including beginners, so you can saddle up and embark on a memorable adventure through Iceland's picturesque countryside. There are countless locations throughout the country where you can horse ride, but here are some of them: Reykjavik Area, Hvolsvollur, Skagafjordur, Myvatn, East Fjords, Husavik.
Dog sledding: A fun and exciting way to experience Iceland's winter scenery is by dog sledding. Although it's not as common as some other activities in this list, dog sledding is available in various parts of the country. A couple of places in Iceland where you could try dog sledding are Myvatn and Husafell.
🛷 Important! Please note that dog sledding is generally a seasonal activity in Iceland and is dependent on the availability of snow and suitable weather conditions.
New Zealand: An Outdoor Enthusiast's Dream
New Zealand is an absolute paradise for outdoor enthusiasts, providing a wide range of adventures against some of the most amazing landscapes on earth.
🧗🏽‍♂️ Adventure activities in New Zealand: zorbing, ziplining, kayaking, rafting, bungee jumping, jet boating, skiing and snowboarding, heli-skiing, abseiling, caving, skydiving.
Zorbing: Zorbing is a sport that originates from New Zealand. It involves getting into a cushioned plastic orb and rolling downhill. While zorbing does come with some risks if some rules are not followed, people who tried it claim it's a lot of fun. While there are many places where you can try this sport (you can even buy your own ball online), not all of them are safe. If you want to try this sport responsibly, going to Rotorua should be on your bucket list.
❓ Did you know? ZORB Rotorua is the largest ball rolling park in the world!
Ziplining: In New Zealand, ziplining wasn't always about adventure and enjoying the scenery. In the beginning, it was used as a mean of transportation across areas that were hard to traverse otherwise. Head over to Christchurch Adventure Park for a chance to ride the longest zipline in New Zealand (1.1km). Waiheke Island, Rotorua or Coromandel Peninsula are also great places you can check out for ziplining.
Kayaking: You have so many options when it comes to kayaking! You can explore fiords, paddle next to dolphins, navigate on rivers or discover crater lakes. Best destinations for kayaking: Abel Tasman National Park, Milford Sound, Lake Taupo (+visit the Maori rock carvings), Queen Charlotte Sound, Whanganui River.
❓ Did you know? Whanganui River is the longest navigable waterway in New Zealand.
Rafting: New Zealand offers rafting experiences of different difficulties, permitting both beginners and experienced adventure-seekers to enjoy this activity. Popular locations include: Rotorua, Taupo, Queenstown, Murchison, Napier and Hawke's Bay and Christchurch and Canterbury Region.
❓ Murchison is a small town known as the white-water capital of New Zealand, because of its many rivers: the Gowan, Mangles, Matiri, Glenroy, Matakitaki, Maruia and the mighty Buller.
Bunjee Jumping: If bunjee jumping is your thing, you MUST come to New Zealand. Wherever you go, a bungee jumping opportunity will always be near you. You can jump from bridges, viaducts, stadium roofs, cliffs, you name it! A few recommendations: Kawarau Bridge, Nevis Bungy, Taupo Bungy.
❓ Did you know? New Zealand is considered the birthplace of bungee jumping. The first commercial jump took place in 1988, at Kawarau Bridge near Queenstown.
❓ Did you know? The jump at Nevis Bungy is the highest in New Zealand: 134 meters!
Jet boating: If you want to do your explorations at high speeds, choose a jet boating activity. You'll find some popular places in Queenstown, Rotorua, Taupo, Buller Gorge.
❓ Did you know? Lake Taupo is New Zealand's largest lake.
Skiing and snowboarding: New Zealand has several ski resorts and alpine areas, primarily on the South Island, where you can hit the slopes. Here are some popular skiing and snowboarding locations in New Zealand: Queenstown, Wanaka, Christchurch and Canterbury Region, Tongariro National Park.
❓ Did you know? In Tongariro National Park you can ski or snowboard on Mount Ruapehu, which is an active volcano!
❄️ Important! Skiing and snowboarding are seasonal activities. As expected, they are available primarily in the winter. The ski season usually starts mid June and ends at the start of November.
Heli-skiing: Heli-skiing in New Zealand allows you to access remote and pristine alpine terrain for an exceptional backcountry skiing or snowboarding experience. Several heli-skiing operators provide access to various locations across the South Island: Queenstown and Wanaka, Methven and Mount Hutt, Mount Cook, Mackenzie Basin.
Abseiling: Abseiling, also known as rappelling, is a thrilling adventure activity that allows you to descend vertical cliffs or rock faces using ropes and specialized equipment. New Zealand offers several locations for abseiling in its rugged and diverse landscapes: Waitomo Caves, Queenstown, Aoraki/Mount Cook National Park, Coromandel Peninsula, Abel Tasman National Park, Whanganui National Park, Franz Josef Glacier.
Caving: Caving is a fascinating way to discover New Zealand's unique underground landscapes. New Zealand has an extensive network of caverns, including limestone caves, glowworm-lit tunnels, and underground wonders. The following are a few well-liked caving locations in New Zealand: Waitomo Caves, Abel Tasman National Park, Punakaiki, Kahurangi National Park.
❓ Did you know? In Kahurangi National Park you will find Honeycomb Hill Cave, which is one of the best-preserved fossil caves in the world.
Skydiving: New Zealand offers numerous locations for skydiving, providing thrill-seekers with breathtaking aerial views and an adrenaline rush. Here are some popular places for skydiving in New Zealand: Fox Glacier, Franz Josef Glacier, Queenstown, Taupo, Abel Tasman National Park.
Patagonia: South America's Untamed Wilderness
Located at the southern tip of South America, Patagonia stands as a testament to nature's grandeur. This untamed wilderness, shared by Chile and Argentina, beckons adventurers with its majestic landscapes and offers a playground for those who seek outdoor thrills in a remote and rugged setting.
🧗🏽‍♂️ Adventure activities in Patagonia: climbing, wildlife watching, kayaking, rafting, ice trekking, horseback riding
Climbing: Patagonia is a renowned destination for climbers, offering some of the most challenging and iconic alpine routes in the world. Here are some of the most popular climbing areas in Patagonia: Torres del Paine National Park (Chile), El Chaltén (Argentina), El Morado (Chile), Fitz Roy Range (Argentina), Southern&Northern Patagonian Ice Field (Chile).
Wildlife watching: Patagonia is a haven for wildlife enthusiasts, offering the opportunity to witness a diverse array of animals in their natural habitats. Here are some of the best places for wildlife watching in Patagonia: Punta Tombo (Argentina) – one of the world's largest Magellanic penguin colonies, Península Valdés (Argentina) – southern right whales, sea lions, elephant seals, and a wide variety of bird species, including penguins, Tierra del Fuego (Argentina and Chile) – beavers, foxes, guanacos, several bird species, sea lions, Torres del Paine National Park (Chile) – guanacos, foxes, huemul deer, pumas, condors and other avian species, Chiloé Island (Chile) – penguins, sea lions, and a wide range of bird species, including the iconic pink flamingos.
Kayaking: Kayaking in Patagonia offers an incredible way to explore its pristine and diverse landscapes, including glacial lakes, fjords, and rivers. Here are some of the best locations for kayaking in Patagonia: Lake Pehoé, Torres del Paine National Park (Chile), Lago General Carrera (Chile), Futaleufú River (Chile), Lake Argentino, El Calafate (Argentina), Tierra del Fuego (Chile and Argentina).
❓ Did you know? Lago General Carrera is the largest lake in Chile and Lake Argentino is the largest freshwater lake in Argentina.
Rafting: Rafting in Patagonia offers thrilling adventures on some of the world's wildest rivers, with spectacular mountain and glacier vistas as your backdrop. Here are some popular rafting destinations: Futaleufú River (Chile), Bio-Bio River (Chile), Palena River (Chile), Cisnes River (Chile), Rio Manso (Argentina), Aluminé River (Argentina), Río Santa Cruz (Argentina).
Ice trekking: Ice trekking in Patagonia is a thrilling experience that allows you to explore the region's stunning glaciers up close. Here are some notable places for ice trekking in Patagonia: Perito Moreno Glacier (Argentina), Grey Glacier (Chile), Ventisquero Colgante (Chile), Cerro Tronador (Argentina and Chile).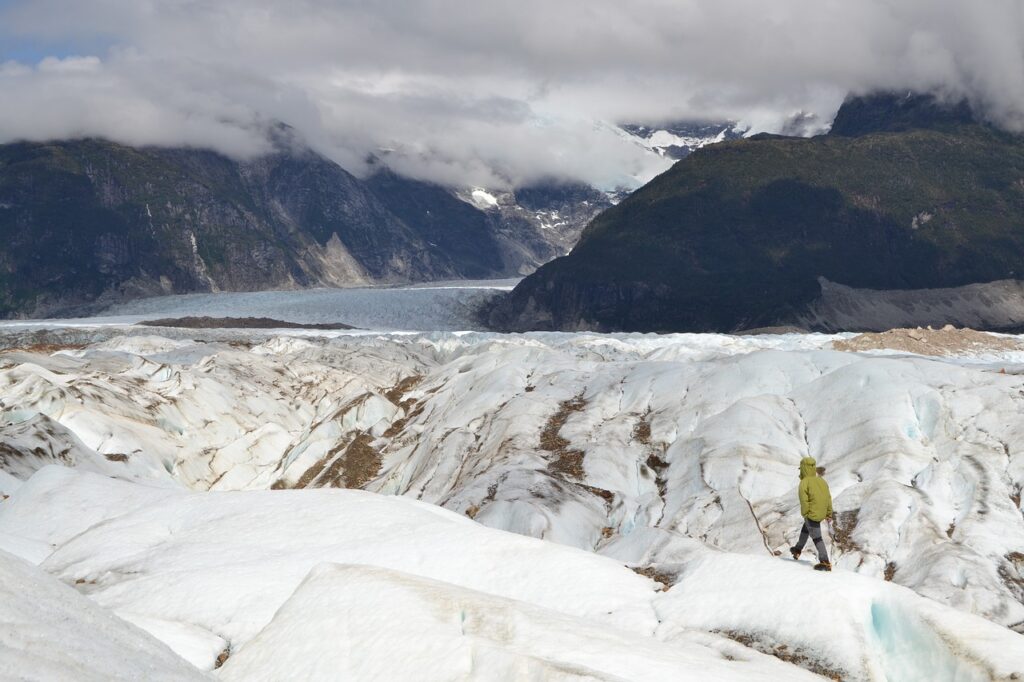 Horseback riding: Horseback riding in Patagonia is a fantastic way to explore the region's vast landscapes, from the rugged mountains to the pristine wilderness. Here are some places where you can enjoy horseback riding adventures in Patagonia: El Calafate (Argentina), Bariloche (Argentina), Torres del Paine National Park (Chile), Aysén Region (Chile), Punta Arenas (Chile), Puerto Varas and Puerto Montt (Chile).
Now here are my top 3 places in the world where adventurers can travel in 2023 and not be bored (at all!). Do you have any other suggestions for this list? Let me know in the comments below :)