As a passionate music lover, since I discovered the Electric Castle Festival a few years back, I got hooked on the vibe that this festival is inflicting. Having been fortunate enough to attend three editions of this remarkable event, I am looking forward to the festival's 10th anniversary edition. Located in a charming, rural area of Transylvania (Bontida village), Electric Castle (EC) has grown to become a destination for music enthusiasts looking for a truly special experience.
This article is meant to be a comprehensive guide for every aspect of the festival, but also a review in which I'll tell you my personal experiences so that you can be fully prepared and get the most out of your attendance at this electrifying event. Like I said, expect an article like a virtual tour of Electric Castle. Some of the topics that I'll discuss are the breathtaking location , the performers that have graced its stages, the accommodation and transportation options or the weather conditions.
Hence, whether you've attended festivals before or not, keep reading to learn everything there is to know about Electric Castle Festival—a location where adventure, music, and friendship meet in a most remarkable way.
The Basics of Electric Castle Festival
How did Electric Castle start?
The festival has a brief but impressive history. As a bit of background, in 2009 a group of youthful, passionate music enthusiasts and business people started to put together small events in Booha Bar in Cluj-Napoca. As their audience grew in numbers, they started choosing bigger and bigger locations to host parties, until they reached the point to make them on Cluj Arena.
In 2013, the Electric Castle Festival started at Banffy. The organizers' desire was to create a one-of-a-kind music festival in Romania. From its humble beginnings, this event quickly gained notoriety for its impressive setting, diverse lineup and immersive atmosphere.
Electric Castle location
First things first. The festival is located in Romania, in a rural area of the famous Transylvania region. The village is called Bontida and although it has a remote vibe, it is less than 40 km away from Cluj-Napoca, a major Romanian city. To go into more detail, the actual festival is held on the Banffy domain, where you'll find the Banffy Castle. Hence, the name of the festival (Electric Castle) and their slogan, Meet me at the castle.
The ruins of the castle, which is restored a bit more year over year, are surrounded by lush greenery and serene lakes and offer a magical backdrop for an unforgettable music experience.
Electric Castle dates
Electric Castle Festival is an 5-day annual celebration of art and music. While the dates may change from year to year, what you should know is that it is held during the summer, typically in July (although the first editions were organized in June).
📅 In 2024, the festival awaits its party-people between 22-27 of July.
Weather during the festival
At the Electric Castle Festival, the weather is a subject of both intrigue and preparation. While recent editions have seen improved weather conditions, rain remains a staple of the festival. The rain, in a sense, has become part of the festival's spirit, and attendees have learnt to embrace it. Be prepared for occasional showers, and ensure you pack raincoats and rubber boots. In addition to keeping you dry, these items will make your festival experience better by enabling you to dance in the rain with the carefree spirit that Electric Castle embodies.
During the day it can get very hot (over 30 degrees Celsius), but during the night the temperatures can drop to the point you might need a hoodie, so take this into consideration when you're going to choose what to wear.
Past Editions: Artists and Lineup
To give you a glimpse into the lineup of the past editions, artists like Jessie J, Nothing but Thieves (one of my favorite bands, check them out!), Iggy Pop, Florence and the machine, Thirty seconds to Mars, Netsky, Macklemore, Damian Marley or Gorillaz have electrified the crowds over the years. As you can see, Electric Castle Festival has a rich history of bringing an eclectic mix of artists to its unique stages, and each edition has been a musical journey like no other. You can expect diverse music genres, like rock, electronic, reggae, indie, hip hop and more.
Festival Size and Atmosphere
While Electric Castle is not as massive as some of the world's largest festivals, it has steadily grown in size and reputation over the years. In the last years, every edition has almost 300.000 attendees. This is a huge number considering that it's first edition in 2013 had approximately 32.000 people. Despite drawing a diverse and international audience, the festival manages to preserve a cosy, intimate feel. This size fosters a more personal connection between the audience and the artists by enabling festival attendees to enjoy performances without feeling lost in a large crowd.
Where Electric Castle really shines is in its atmosphere. The festival is well-known for its inclusive and eclectic vibe. This is accomplished through a number of stages, each with a unique ambience and a variety of musical selections. Electric Castle has everything you could possibly want, whether you want to head-bang to rock tunes, dance to electronic beats, relax in a more private setting, or explore other musical genres.
The festival's location in Bontida's Banffy Castle lends an air of magic to the event. The scenic surroundings and historic architecture of the castle create an aesthetically striking and fascinating setting.
Getting There: Transportation Options
There are several ways to get to the Electric Castle Festival; whatever one you choose will depend on your travel plans, preferences for convenience, and level of experience.
If you're coming by car, you should know that Bontida is less than 40 km away from Cluj-Napoca. Many people from Hungary drive to Cluj for festivals, considering that the driving time between Budapest and Cluj-Napoca is about 5 and a half hours.
⚠️ If you intend to drive all the way to Bontida, be aware that the local authorities won't let you drive the car inside the village. You'll be asked to leave it in a parking lot just outside the village and continue on foot. From the police checkpoint you need to walk for about 40 minutes to reach the festival!
You can also fly into the country. The city of Cluj-Napoca is well-connected with many other European cities or you can choose whichever Romanian airport is more convenient to you.
Once you are in Cluj-Napoca, you can reach the festival by bus, by train or by taxi.
The buses are made available by the festival and represent a quick, cheap and efficient option to commute between Cluj-Napoca and Bontida. You can board the bus either from Iulius Mall or from Cluj Arena. A one way ticket is 25 lei. Also, the buses run around the clock throughout the 5 days of the festival.
⚠️ It's essential to note that relying on the shuttle bus can have some drawbacks, particularly during peak hours when festival-goers are trying to return to Cluj after the performances. Be prepared for long lines, with waiting times occasionally lasting for hours (although they promise it won't happen again – we'll see). In 2022, after the Twenty One Pilots show, I stayed in line for 5 hours until I was able to board the bus. After a full day of walking, running and dancing, it was NOT easy.
The trains are only one way. That means that you can only get from Cluj-Napoca to Bontida by train, but not the other way around. For me, this option is not very practical because the train station is pretty far from the festival and although there are some mini-buses that take the people closer to the entrance, their schedule is not very reliable. Also, the trains have limited spots and you need to book in advance for a seat.
Taxis are an option if you want comfort. Beware of taxi drivers that will try to impose a flat fare instead of running the meter. It's a good idea to clarify the rate with the driver before starting your journey. Usually, you should pay somewhere between 100 and 150 lei for a ride. The ride-sharing apps Uber and Bolt are also available if you want to avoid regular taxi drivers or paying cash.
For reference, this is the info that EC provided last year, but in my opinion it applies every year: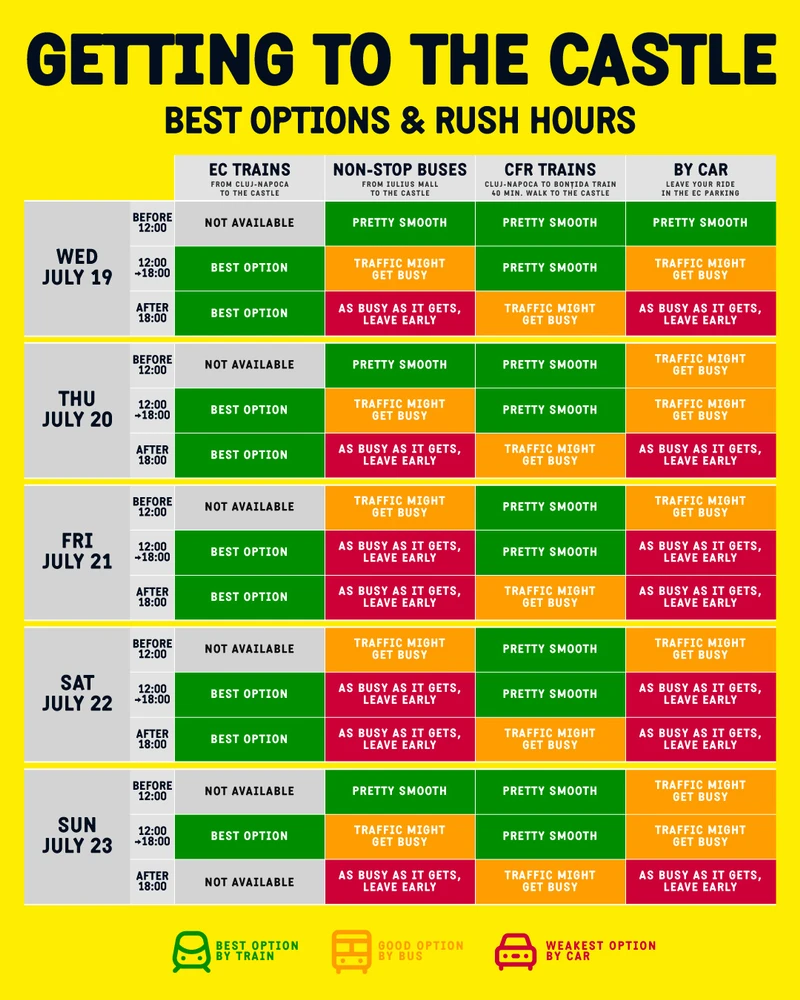 Accommodation: Where to Stay
The accommodation option you choose for the Electric Castle Festival has a big impact on how you experience the whole event. There is a selection of choices to accommodate different tastes.
Places to Stay in Bontida: Staying in Bontida itself is the best option for people who want to enjoy Electric Castle to the fullest. By choosing this option, you may minimize the inconvenience of commuting and cut down on transportation wait times by being within walking distance of the festival grounds. In Bontida, lodging options include camping areas, local guesthouses, and small hotels.
If you want to stay in the camping zone organized by the festival, you must buy a Camping Pass along with your ticket.
🎟️ Visit the official website to learn more about your options.
You can also camp in the locals' backyards or you can stay in their houses.
🏡 Locals offer accommodation during Electric Castle on a couple of Facebook groups dedicated to this topic. This is the one I use to find my hosts during the festival.
Places to Stay in Cluj-Napoca: There are many different places to stay in Cluj-Napoca, from luxurious hotels to inexpensive hostels, but you need to book early because the demand is very high! Remaining in the city gives you the chance to discover Cluj's thriving nightlife and rich cultural scene. It's a good option for festival-goers who wish to spend the day exploring Cluj or other surrounding sights in addition to their festival experience.
BTA Apartment Park Lake is a very nice apartment that is really close to Iullius Mall, the place where you can take the bus from.
If you prefer a hotel, you can take a look at Red Hotel Accommodation, which is also close to the mall.
For more options, check the map below:
⚠️ Consideration for Transportation: It's crucial to consider your preferred mode of transportation while choosing where to stay. While staying in Cluj enables you to take advantage of the city's daytime attractions, staying in Bontida or the surrounding area can save you time and give a more immersive festival experience.
Packing Essentials
Packing the right items for the festival can significantly impact your comfort and overall experience at Electric Castle. Considering the unique setting of the festival and the occasionally unpredictable weather, the following is a list of things you should consider bringing:
Rain Gear: You'll want to be ready for the occasional rain that Electric Castle Festival is known for. Bring a good raincoat or poncho so you can keep dry during the concerts and activities. Remember to include rubber or waterproof shoes as mud can be part of the festival experience.
Layered Clothes: Since Romanian weather can sometimes be unpredictable, it's a good idea to pack layered clothing. Wearing lightweight jackets, hoodies, and t-shirts can help you adjust to changing temperatures both during the day and at night.
Comfy Shoes: Since you'll probably be walking around for most of the day, comfy shoes are a must. Opt for well-worn sneakers or sturdy, supportive footwear that can withstand long hours of dancing and walking.
Backpack or Fanny Pack: A small backpack or fanny pack can be handy for carrying your essentials, such as sunscreen, a water bottle, and any promotional items or freebies you pick up at the festival. I always get stuff like power banks, smartphone lenses or raincoats so for me, a backpack does the trick for storing them.
Sun Protection: To shield yourself from the sun during the daytime performances, remember to pack sunscreen, sunglasses, and a hat.
Essentials and Personal Identification: Bring along a modest first aid kit, your ID, and any essential medications. It could be a good idea to include a portable phone charger so your gadget can stay charged during the festival (I never leave without one!).
Cash and Cards: Electric Castle Festival is a cashless event, but it's always wise to carry some cash if you want to buy something from the vendors outside the festival.
Earplugs: Because music festivals can be very loud, wearing earplugs can both protect your hearing and offer a little relief when you need to take a break from the music.
Hygiene Products: Pack travel-sized toiletries, hand sanitizer, and wet wipes for staying fresh during the festival.
A few things that you are allowed to bring inside the festival:
Backpack
Raincoats, hats, sunglasses
Professional photo and video cameras
Water (but only in sealed, plastic bottles)
Medication
Access to the Festival
Getting to Electric Castle Festival and navigating your way around the festival grounds is essential for a smooth and enjoyable experience. Here's what you need to know about accessing the festival:
Tickets: To enter the event, make sure you have your festival tickets handy, either in print or on your mobile device. You also need your ID, but only in the first day, to get your wristband. You can leave the ID home afterwards. You also have the possibility to exchange the ticket into the wristband if you go to an exchange point a few days prior to the festival start (again, don't forget the ID). Using this trick will save you from staying in long queues and will make the process of entering the festival much smoother. Besides, you won't need the to carry the ID with you into the festival, so one thing less to worry about!
Security Checks: Be prepared for security checks at the entry to ensure everyone's safety. Prepare for your bags to be inspected, and abide by any security instructions given.
Wristband: To enter and exit the festival grounds, don't forget to scan your wristband every time.
Festival Map: Pick up a map at the entrance or from information booths to become acquainted with the arrangement and locations of different stages and facilities.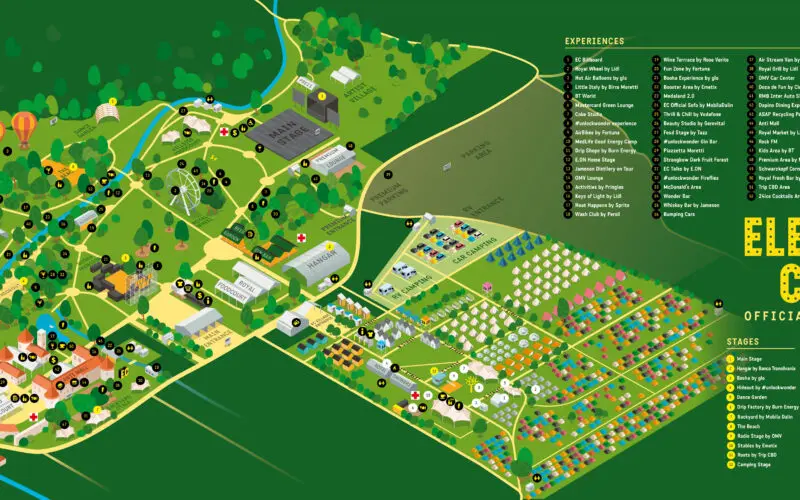 What to expect inside the festival
Inside Electric Castle Festival, you'll discover a vibrant and eclectic world filled with a variety of experiences to suit all tastes. Here's a glimpse of what you can expect:
Multiple Stages: Electric Castle features multiple stages (in 2023 there were 12!), each with an individual musical style and vibe. There's a stage for every musical taste, including hip-hop, electronic sounds, and rock. You can explore your favorite music genres as you hop from one performance to another thanks to the diverse lineup.
Art Installations: The festival includes eye-catching art installations that enhance the experience artistically. A visually stunning backdrop is created through captivating sculptures, light displays, and interactive artwork.
Food and Dining: To keep you going throughout the day, Electric Castle has a delicious selection of food and drink options. There are many different culinary delights to be found, ranging from regional Romanian food to flavors from around the world. Those with dietary preferences can also choose from options that are vegetarian or vegan.
Activities & Contests: Electric Castle regularly holds promotional events and contests, which are hosted by event sponsors, if you're in the mood for something other than music. These may provide you the chance to win free gifts like photo magnets, power banks, raincoats, and other fun gadgets.
Chill-Out Areas: Electric Castle offers private spaces for those who need some quiet time before or after high-energy shows. These areas provide a peaceful haven where you may unwind, rejuvenate, and mingle with other festival attendees.
Unique Experiences: The festival is a good opportunity to have experiences that are out of the ordinary. For example, in the last years, attendees could ride hot air balloons!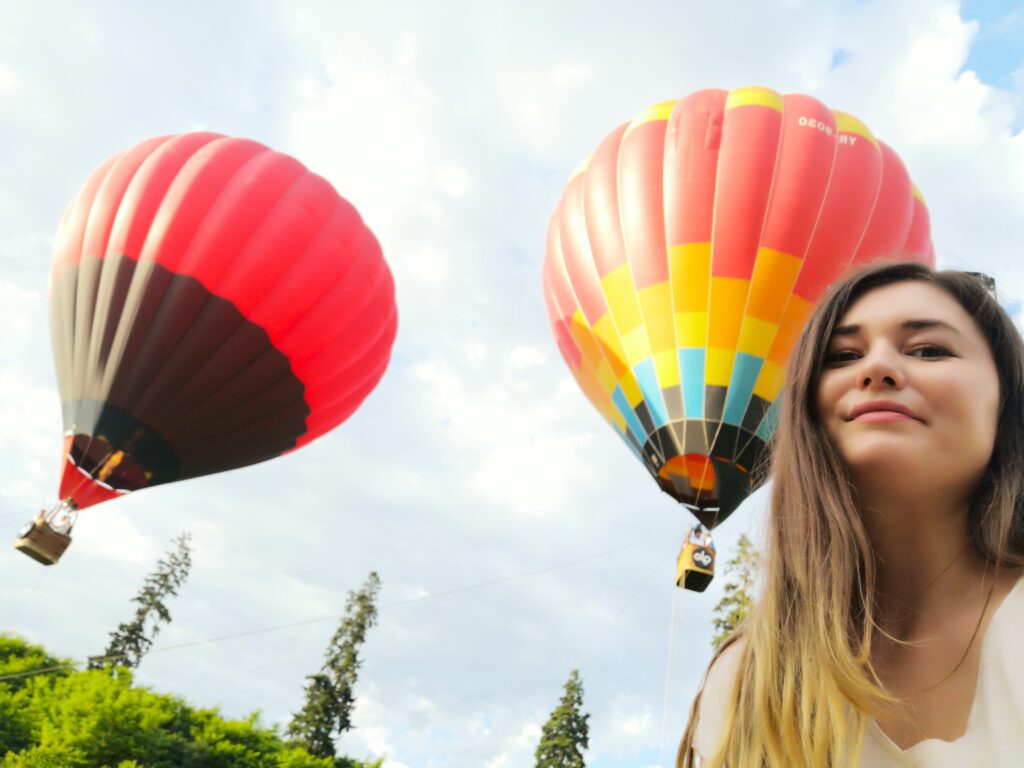 Late-Night Parties: As the night falls, Electric Castle doesn't lose its energy. The festival is kept going strong with late-night parties and DJ performances, which guarantee that the music and celebrations last until the early hours of the morning.
Safety at Electric Castle
At Electric Castle, everyone's safety and well-being during the festival is put on the first place. The following are some important safety factors:
Security Procedures: When entering the event grounds, be prepared for a security check. These checks help maintain a safe and secure environment for everyone. Be cooperative and prepared for bag inspections.
Emergency Services: First aid and medicine are usually available on-site at Electric Castle. Learn where the medical facilities are at the festival, and don't be afraid to ask for help if you need it.
Sun Protection: Wear a hat, sunglasses, and sunscreen to protect yourself from the sun during the daytime performances. There is a chance of heat exhaustion, so take breaks and seek cover when necessary.
Ear Protection: If you're close to the stages, consider wearing earplugs to protect your hearing from prolonged exposure to loud music.
Keep Up to Date: Pay attention to announcements and information provided by festival staff and organizers. Learn the locations of meeting places (the most famous is the Message Wall – the place near the entrance where cute messages are frequently put up) and emergency exits.
Watch Out for One Another: The people of Electric Castle are renowned for their camaraderie. Do not hesitate to assist or notify festival personnel if you witness someone distressed or in trouble.
Safety line: There is a number you can call if you or someone else needs help. Make sure to save it in your contacts: +40 731 333 100.
Angel Shot: If you ever feel unsafe, just order an Angel Shot from any bar and you'll get help.
Cap and Straw: When ordering a drink, ask for a cap and straw to make sure your drink is safe at all times.
Conclusion
The delicate balance between Electric Castle's size and ambience creates a lively, community-like vibe that differentiates it from bigger festivals. Every festival-goer will be able to discover their own beat thanks to the several stages and wide variety of musical genres.
Remember that the Electric Castle festival is a place where music, friendship, and adventure come together in the most beautiful way as you get ready for your next adventure or make your debut at this incredible event. Everyone who attends Electric Castle Festival is guaranteed a once-in-a-lifetime experience, whether they are dancing in the rain, admiring the art installations, or sitting front row at the main stage.
FAQ
Where is Electric Castle?
Electric Castle takes place in Bontida village, Cluj county, Romania.
What is the lineup at Electric Castle?
The EC lineup changes every year and the first artists are usually announced in December. Make sure to keep an eye on the festival's official website to be the first to know who will come up on the stages next year.
Does Electric Castle festival have an app?
Yes, Electric Castle festival has an app and it's available for iOS (temporarily unavailable) and Android.
Does Electric Castle have a camping zone?
Yes, the festival has a Regular Camping and also a Quiet Camping. There are available different types of Pre-Pitched tents and wooden chalets. Also, festival-goes can simply bring and install their own tent.
Can I bring my pet to Electric Castle?
No, the access with any kind of animals is forbidden both on the perimeter of the festival and the camping area.
Electric Castle vs Untold. Which is better?
It is difficult to say if Electric Castle or Untold Festival is "better" because it primarily depends on your preferences and what you are looking for in a music festival. Untold is one of the largest festivals in Europe, focused on mainstream EDM music and it's easier to get to, since it's in Cluj-Napoca. Electric Castle on the other hand, is a medium-sized festival, with a more diverse lineup, but it's harder to get to, since it's in a rural area.