Montenegro is a country in southeastern Europe, known for its beautiful coastline, rugged mountains, and historic towns. When I first visited Montenegro, I didn't know much about it. My primary reason to travel to this country was to explore Tara Canyon and do all sorts of outdoor activities, like rafting and zip lining. Since then, my knowledge expanded a lot and I'm here to tell you as well why Montenegro should be on your bucket list and what are the best things to do and see in this small but very diverse country. This article is going to showcase its natural wonders, historical treasures, adrenaline-pumping adventures, and the warmth of its local hospitality. So without further ado, let's get into it.
1. Discover the Bay of Kotor
The Bay of Kotor is encircled by towering mountains that seem to plunge into the Adriatic Sea, creating a breathtaking fjord-like scene. Take leisurely walks along Kotor's old city walls, which provide sweeping vistas of the bay's glistening waters and historical towns. You can also discover small towns like Perast, home to several churches that date back hundreds of years and and a unique man made island called Our Lady of the Rocks.
2. Explore the Coastline
Throughout the Mediterranean, Montenegro has some of the most beautiful beaches along its coastline. From popular sandy sections to quiet coves, these waterfronts beckon visitors to unwind in paradise. Some of the best beaches in Montenegro include Mogren Beach, Velika Plaza, Sveti Stefan Beach, Drobni Pijesak, Lucice Beach, Jaz Beach, Plavi Horizonti.
ℹ️ Did you know? Sveti Stefan Beach is available only to the guests of Aman Sveti Stefan luxury resort and was visited by many celebrities over the years, including Elizabeth Taylor, Sophia Loren and the iconic Marilyn Monroe.

💰 If Aman Sveti Stefan is out of your budget, consider these amazing alternatives nearby: Hotel Adrović, Hotel California by Aycon or Vivid Blue Serenity Resort. These are still luxury options, but far cheaper.
Take advantage of the pristine waters for snorkeling excursions, relax on the golden sands, or engage in thrilling water sports, like surfing, kayaking, water-skiing or snorkeling.
3. Visit Historical Sites
The Old Town of Budva: Rich in history, this area of Budva is home to a plethora of historic structures, cobblestone streets, and medieval walls. Explore its winding lanes, find churches dating back hundreds of years, and take in this bustling seaside gem's ambiance.
Cetinje – The Royal Capital: Serving as Montenegro's former royal capital, Cetinje is a historical gem. See the Cetinje Monastery, which is home to important relics and artifacts and is a hub of Montenegrin spirituality. The National Museum of Montenegro showcases a varied assortment of historical and cultural artifacts that provide insight into the history of the nation.
Bar Old Town and Stari Bar: The ruins of Stari Bar, a fortified medieval city, offer a window into Montenegro's history. Discover the mysteries concealed behind the stone walls as you stroll through the historic passageways and explore the remains of the magnificent fortress, churches, and palaces.
Herceg Novi: The seaside town of Herceg Novi has been shaped by a variety of historical periods and features Austro-Hungarian architecture as well as and Ottoman fortifications. Discover the town's historical nuances in its Old Town, which is home to numerous squares and churches that date back centuries, and explore the Spanjola Fortress for its panoramic vistas.
4. Go on a Pilgrimage to Ostrog Monastery
One of the most recognizable and venerated locations in Montenegro is the Ostrog Monastery, a masterpiece of spirituality and architectural creativity. The monastery was built in a vertical rock wall, which makes the sight of it truly impressive. It is located 50 km away from Podgorica and 15 km away from Nikšić and is divided into two parts—the Upper and Lower Monasteries.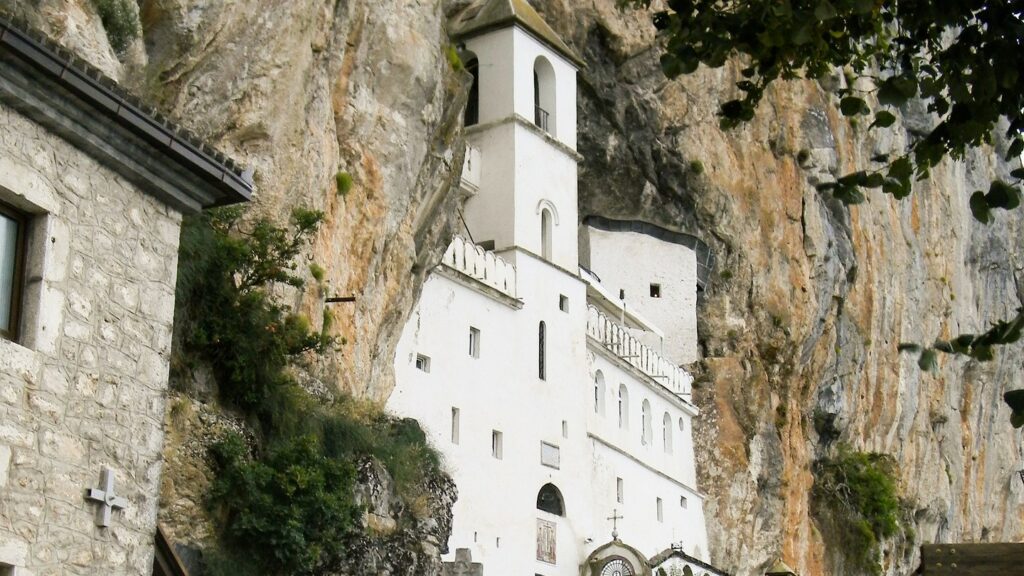 Climbing the steep path to the Upper Monastery is a breathtaking experience. As visitors wind through the steep mountainside, the first glimpse of the monastery appears, seemingly emerging from the sheer rock face. The Church of the Presentation and the Church of the Holy Cross, two of the churches that make up the Upper Monastery, are decorated with elaborate murals and religious iconography dating back centuries.
Travellers and pilgrims alike swarm Ostrog in search of blessings, healing, and spiritual comfort. The Orthodox Christian community places great importance on the monastery since it is thought to have miraculous curative effects on true believers.
In addition to its spiritual value, Ostrog Monastery enthrals tourists with its stunning panoramas. There is a sensation of transcendence and tranquilly when standing at the brink of the cliff and looking out over the vast valleys below and the far-off mountain ranges. The untamed scenery of Montenegro around the monastery adds an element of wonder to the spiritual experiences it provides.
5. Hike in Lovćen National Park
In Lovćen National Park, trails meander through dense forests, revealing breathtaking panoramas of the Adriatic coastline and the surrounding mountains. There's something for everyone, from easy walks ideal for families to strenuous paths tailored for seasoned hikers. Trails like the Njegoš Mausoleum Trail, starting from Ivanova Korita, offer a moderate trek leading to the mausoleum with spectacular viewpoints along the way. The Njegoš Mausoleum Trail leads, as the name suggests, to the mausoleum of Petar II Petrović Njegoš, and is a highlight for many tourists. Hikers who choose to take The Circular Trail, can enjoy breathtaking views of the surrounding terrain in exchange for a more difficult walk.
As hikers traverse the paths, they encounter forests filled with beech, oak, and pine trees, passing by vibrant meadows adorned with wildflowers. The biodiversity of the park makes for an enthralling experience, with opportunities to see a variety of bird species and maybe even glimpses of wildlife.
ℹ️ Another great option for hiking is in Durmitor National Park. This is a refuge for adventurers and nature lovers alike, offering breathtaking scenery, glacial lakes, and towering hills. The park is home to numerous hiking paths that intersect and provide breathtaking views of the Tara River Canyon as well as chances to summit peaks like Bobotov Kuk.
6. Enjoy Outdoor Activities at Tara River Canyon
Tara River Canyon holds the record for Europe's deepest canyon. The highlight is definitely rafting down the roaring rapids of the canyon (at least for me!), which attracts adventurers from all over the world who want to explore the azure waters and rugged terrain.
The steep cliffs of the canyon also serve as a fantastic backdrop for zip-lining experiences, offering an exhilarating chance to soar across the canyon and take in breathtaking views as you traverse it.
Hiking trails around the rim of the canyon provide hikers with breathtaking views that let them fully appreciate how vast this natural wonder is.
ℹ️ To read more about the best outdoor activities in Tara River Canyon, go to the article I wrote especially for this topic, where you'll find my personal experiences as well.
7. Take a Boat Tour on Lake Skadar
Lake Skadar is the biggest lake in the Balkans and a haven for wildlife. Take a boat trip to see hidden coves and a variety of bird species. Some of the bird species that can be observed here in their natural habitat are herons, pelicans, and cormorants. If you want to explore at your own pace, you can also rent kayaks or canoes to paddle through the lake's calm waters.
Charming fishing villages like Virpazar and Rijeka Crnojevića dot the lake's banks, providing a window into the traditional way of life of Montenegro. Visitors can wander through these towns and interact with the people in the area, as well as sample fresh seafood delights at local taverns.
8. Discover One of Europe's Last Rainforests (Biogradska Gora)
Biogradska Gora is a National Park, located in Central Montenegro, in mountainous region of Bjelasica. Although it is the smallest of the four national parks in the country, it's diversity of flora and fauna puts is on the world map. What's special about it is that it's one of the last remaining virgin forests in Europe and consequently, part of the UNESCO World Network of Biosphere Reserves.
Biogradsko Lake, an emerald glacial lake encircled by thick, old trees that have been growing for centuries, is part of this unspoiled wilderness.
The biodiversity of the national park is remarkable; it is home to a wide variety of plant species, including enormous fir and beech trees that are older than many of the cities in Europe.
Hiking routes wind through this lush area, unveiling peaceful meadows, tucked-away waterfalls, and a diverse range of fauna, including bears and lynxes, among other bird species.
Biogradska Gora preserves a portion of primordial wilderness that enthrals tourists with its peace and pristine natural beauty, making it more than just a haven for nature enthusiasts.
9. Relax in Montenegro's Healing Spots
Visit Montenegro's thermal springs and healing locations to learn about the region's natural healing abilities. The country is full of naturally occurring mineral springs that are well-known for their medicinal properties and are thought to have healing effects for a variety of illnesses.
Locations like the therapeutic springs in Igalo, the mineral springs in Bijelo Polje or the mud and healing waters of Boka Kotor Bay provide opportunities for relaxation and rejuvenation amid picturesque surroundings.
Conclusion
A land of striking contrasts and pristine beauty, Montenegro offers a variety of experiences that entice visitors looking for peace, adventure, and cultural immersion. This Balkan jewel beckons exploration and discovery, from the peaceful shores of Lake Skadar to the dramatic panoramas of the Bay of Kotor.
Montenegro is more than just a destination; it's an immersing experience that instills its beauty in every visitor's soul and leaves a lasting impression that continues long after they leave.
Have you been to any of the places in this list? What would you like to do next? Leave your thoughts in the comment section below.