Sweden's capital, Stockholm, is a city where history, culture, and modernity coexist seamlessly. With its stunning archipelago, centuries-old streets, and vibrant neighborhoods, Stockholm offers a diverse range of experiences that can captivate any traveler, but when you have only 3 days to explore the city, how do you pick what do to and see so that your time is used in the best way? Fortunately, I've been to Stockholm more than once (I'm actually writing this article sitting on a boat in the Stockholm archipelago) and I can help you make the perfect itinerary for three days.
This tour includes the must-see sights and little-known gems that make Stockholm a traveler's dream, including discovering the medieval grandeur of Gamla Stan, enjoying Swedish food, and exploring the natural beauty of the archipelago.
🧾 Note: I chose to share a packed itinerary, instead of an easy one because that way you can have multiple options for a day and you can choose what you want to see most, depending on your preferences.
So grab your bags, lace on your walking shoes, and prepare to set out on a fantastic tour across Stockholm's beautiful landscapes, rich history, and vibrant culture.
Day 1: Discovering Stockholm's Historic Heart
You will spend your first day in Stockholm exploring the city's historic district, which is home to charming medieval streets and sumptuous palaces.
Morning: Exploring Gamla Stan
Start your day at Gamla Stan, the Old Town, the beating heart of Stockholm's history. This charming area is a maze of winding, cobblestone lanes surrounded with vibrant buildings that look as though they belong in a storybook. The highlights of your morning adventure are as follows:
Royal Palace and Museums: Start your day with a visit to the Royal Palace, where is the official residence of the King (although he and his family actually live in Drottningholm Palace). Don't miss the Royal Apartments, the Treasury, or the Royal Chapel as you explore the lavish interiors. Nearby, you'll find the Royal Armory, displaying centuries of regal armor and weaponry.
Fika Break: Enjoy a lovely Swedish fika (coffee break) at one of the quaint cafés before getting lost in the Old Town's picturesque lanes. A cinnamon bun (kanelbullar) or another type of pastry and a strong cup of Swedish coffee are the ideal way to appreciate this beloved local custom.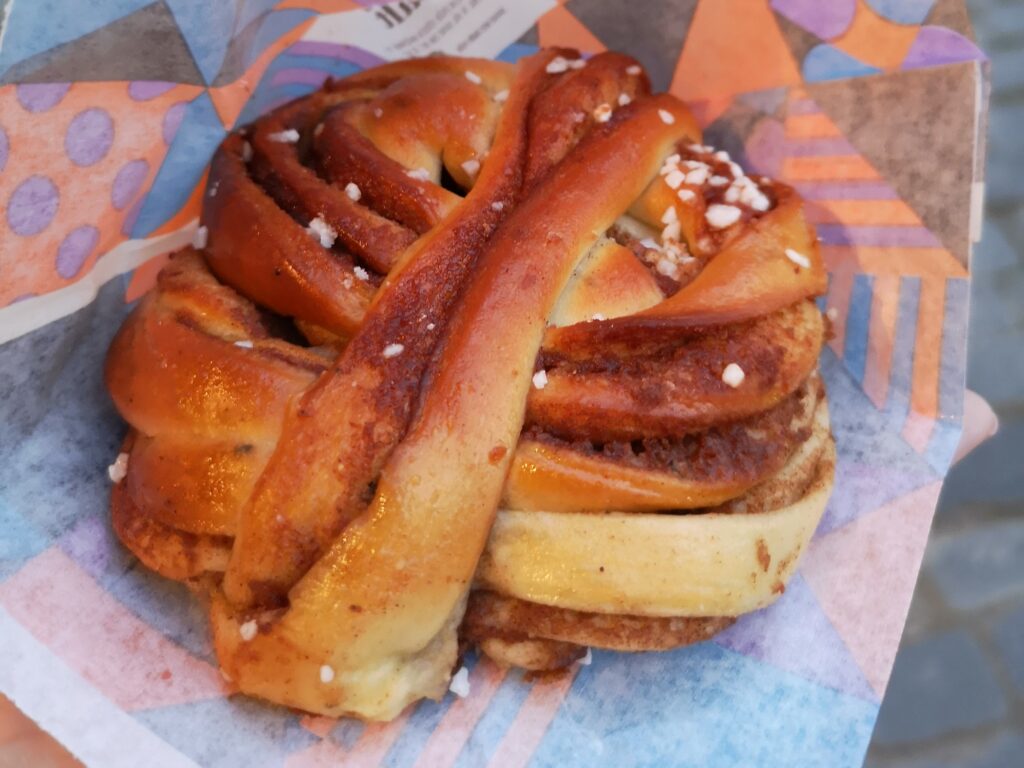 Afternoon: Stockholm Cathedral and More
After a leisurely morning, continue your exploration of Stockholm's historic gems:
Storkyrkan (Stockholm Cathedral): A short distance from the Royal Palace is where you'll discover Storkyrkan, the cathedral of Stockholm. Admire its magnificent Gothic architecture and the well-known St. George and the Dragon sculpture. The cathedral is a reminder of Sweden's lengthy history and has seen many royal festivities.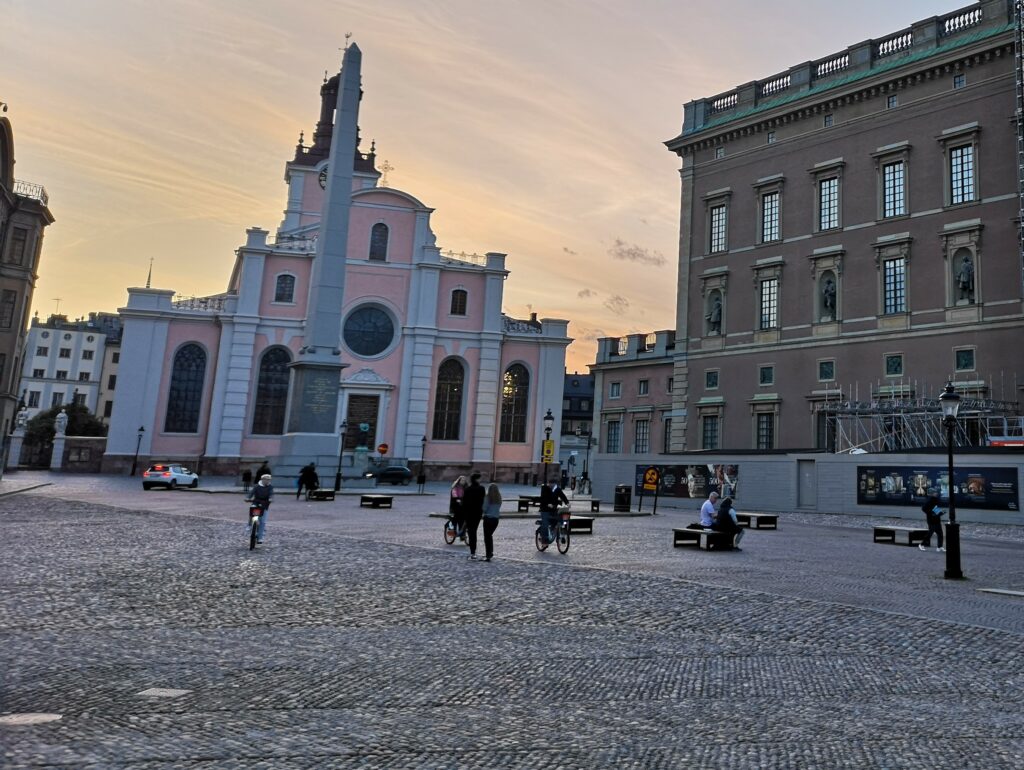 Lunch: Enjoy traditional Swedish cuisine at a nearby Swedish restaurant. Try traditional dishes like gravlax (cured salmon) or Swedish meatballs with lingonberry sauce.
Evening: Djurgården Island
It's time to travel to Djurgården Island, a haven of culture and scenic beauty, as the day gives way to night:
Vasa Museum: Explore the naval history of Sweden at the Vasa Museum. The Vasa warship, which sank on its first voyage in the 17th century and was almost entirely salvaged centuries later, is located here and is surprisingly well-preserved. The museum provides an enthralling window into the past.
Explore the naval history of Sweden at the Vasa Museum. The Vasa warship, which sank on its first voyage in the 17th century and was almost entirely salvaged centuries later, is located here and is surprisingly well-preserved. The museum provides an enthralling window into the past.
Djurgården Park: After seeing the museum, take a leisurely stroll through Djurgården Park. The picturesque canals and rich vegetation offer a tranquil counterpoint to the active city. Consider hiring a bicycle or a paddleboat to enhance your exploration if you have the time.
Dinner: For your evening meal, think about going to Djurgården or returning to Gamla Stan to take advantage of the numerous wonderful restaurants there.
🍽️ If you want a viking experience, I recommend going to Aifur Restaurant in Gamla Stan. You'll be greeted like a king, cheered by the crowd upon entrance and you will enjoy live music that will make you swear you were transported centuries back, to an old viking tavern. just make sure you have a reservation, because the place is usually very crowded.
Day 2: Modern Stockholm and Cultural Delights
After immersing yourself in Stockholm's historic charm on day one, it's time to explore the city's contemporary side and indulge in its vibrant cultural scene.
Morning: Östermalm's Delights
Start your second day with a visit to Östermalm, a stylish and upscale district known for its sophisticated atmosphere and culinary delights.
Östermalm Saluhall (Food Hall): Begin your morning at the Östermalm Saluhall, a food market that showcases the very best of Swedish gastronomy. Enjoy traditional Swedish treats, artisanal cheeses, and local seafood as you browse the vendors. It's the ideal location for a leisurely brunch or breakfast.
Exploring Östermalm: After your culinary journey, stroll through Östermalm's streets. Visit boutique stores that feature everything from designer clothing to one-of-a-kind interior design items while admiring exquisite architecture.
Afternoon: Modern Art and Swedish Cuisine
Spend the afternoon exploring Stockholm's cultural offerings, including its contemporary art scene.
Moderna Museet (Museum of Modern Art): Visit the Moderna Museet on Skeppsholmen Island to view Sweden's top collection of modern and contemporary art. Famous painters including Picasso, Dali, and Warhol have pieces in the museum's collection, which sheds light on how art changed over the 20th and 21st centuries.
Lunch: Indulge in a delicious meal at a hip Scandinavian restaurant in the city to recharge. To taste the flavors of Sweden, try a smorgasbord or some other local culinary delights.
Evening: Södermalm's Bohemian Vibes
As the sun starts to set, enter Södermalm, a neighborhood famed for its artistic and bohemian atmosphere.
Södermalm Exploration: Take a leisurely walk through Södermalm's charming streets. The hipster cafes, vintage stores, and quirky boutiques in this area are well-known. Discover Skånegatan and Götgatan to experience Södermalm's distinctive character.
Dinner: Finish your day in Södermalm with an excellent meal. Many of the local eateries offer fusions of international and Swedish cuisine, making it the ideal location to enjoy a great dinner.
🧄 Recommendation: If you want to end the night with a bang, you can go to a pub that serves their drinks… with garlic! The place is in Södermalm, it is called Bröderna Olssons Garlic & Shots and is perfect for rock music fans. You can try beer with garlic, although my recommendation would be the Bloody Shots :)
The second day of your trip to Stockholm introduces you to the contemporary, cultural, and culinary sides of the city. Tomorrow, you'll explore the stunning archipelago and experience the natural beauty that surrounds the capital.
Day 3: Island Hopping and Outdoor Adventures
On your third day in Stockholm, you'll venture beyond the city limits to explore the breathtaking Stockholm archipelago and immerse yourself in outdoor adventures.
Morning: Archipelago Boat Tour
Archipelago Exploration: Explore the archipelago first thing in the morning by taking a boat tour. There are thousands of islands in the Stockholm archipelago, and each one has a special beauty. Consider a guided tour that will take you to some of the most picturesque islands in the archipelago.
Fjäderholmarna: A frequent stop on many boat cruises is Fjäderholmarna, one of the islands that are closest to Stockholm. Discover the island's craft workshops, take a leisurely stroll, and enjoy the stunning coastal views.
Afternoon: Island Delights and Outdoor Activities
Lunch on an Island: Take advantage of the delicious lunch specials offered by the archipelago's beautiful island eateries. Enjoy freshly caught seafood and other local specialties while soaking in the tranquil island atmosphere.
Outdoor Adventures (Optional): If you enjoy being outside, think about renting a kayak or canoe to explore the tranquil waterways of the archipelago. Alternatively, you can opt for a guided hiking tour on one of the islands to experience the archipelago's natural beauty up close.
Evening: Return to the City
Return to Stockholm: As the afternoon draws to a close, head back to Stockholm and take a moment to reflect on the journey to the archipelago. Many boat tours offer evening returns, allowing you to enjoy the archipelago's stunning sunset views.
Dinner: Pick a waterfront restaurant for your last meal in Stockholm so you may enjoy your meal while seeing the city's glittering nighttime lights as they reflect on the sea. It's the ideal way to wrap out your trip to Stockholm.
Your third day in Stockholm offers an enjoyable escape from the city's bustle as you discover the archipelago's natural splendor. It's a day of peace, outdoor recreation, and the opportunity to experience Sweden's breathtaking coastal scenery.
Practical Tips for a Memorable Trip
A successful trip to Stockholm requires not only a well-planned itinerary but also some practical preparations and insights. The following tips will help make your trip to the Swedish capital even more enjoyable and memorable:
Packing Essentials for Stockholm
Besides the usual stuff you pack when you're away from home, keep in mind these essentials:
Layered Clothing: The weather in Stockholm can be fairly unpredictable, so bring layers of clothing. Even in the summer, it can get chilly in the evenings, so it's a good idea to have a lightweight jacket or sweater.
Comfortable Walking Shoes: You'll be doing a lot of walking, so you need to have comfortable shoes. In general, Stockholm's sidewalks and streets are kept in good condition for pedestrians.
Rain Gear: It's a good idea to take an umbrella or a waterproof jacket given the chance of occasional rainfall.
Power Adapter: Type C and Type F outlets are used in Sweden. Bring the correct power adapter with you, to keep your devices charged.
🎒 Related: Smart and useful packing tips for backpackers.
Transportation Options Within the City
Stockholm Card: Consider buying a Stockholm Card to enjoy unlimited access to public transport as well as discounted entrance to a number of museums and attractions.
Public Transport: Buses, trams and the metro are all part of Stockholm's effective public transportation system. It's an easy method to navigate the city.
Biking: Stockholm has an impressive network of bike lanes and overall is a very, very bike-friendly city. You can rent bikes from many hotels if you want to explore the city on two wheels.
Recommendations for Budget Travelers
Free Attractions: Stockholm has a number of free attractions, including public parks (like Haga Royal Park), the Royal Palace's Changing of the Guard ceremony, the entrance floor of the National Museum, and Gamla Stan. Take advantage of these to save on admission fees.
Local Restaurants: To enjoy genuine Swedish cuisine without breaking the bank, choose local eateries and street food vendors.
Discount Cards: Look for discounts on Stockholm's attractions and restaurants through various tourist cards and online deals.
Suggested Accommodations for Different Budgets
Budget: Budget-friendly accommodations are available in Stockholm, especially in neighborhoods like Södermalm and Norrmalm.
🏨 Two places where I stayed in the past and for which I can vouch for are the Generator Hostel and Rygerfjord Hotel & Hostel. At Generator there are a lot of young people with a very fun and positive vibe. You can play games in their lounge area, the rooms are spacious and the breakfast is really good. Rygerfjord is an out-of-the-ordinary accommodation, because if you choose it you will stay on a boat! The rooms are basically cabins and don't have much space available, but it's just enough if you're a backpacker. Also, bonus points for how comfy the bed was.
Mid-Range: If you're looking for a comfortable but affordable lodging option, think about staying in boutique hotels or Airbnb rentals.
🏨 Rex Hotel is a good option for staying in Stockholm. It offers great services, it's location is close to the city center and is certified with the Travel Proud badge, meaning that they welcome people from the LGBTQ+ community with open arms 🌈. If you prefer a hotel with an antique feel, Victory Hotel might be the one for you. It's quirky, yet tasteful. Moreover, it's as central as it can be (Gamla Stan).
Luxury: Stockholm features a number of magnificent hotels with breathtaking waterfront views and first-rate services, if you're looking for luxury.
🏨 So many hotels are worthy to be mentioned here, but I'll only choose two of them: Hotel Diplomat and Lydmar Hotel. Their 5* rooms and services speak for themselves.
How to Make the Most of Stockholm's Cultural Experiences
Reserve Tickets in Advance: It's a good idea to reserve tickets in advance for famous sites and museums, especially during the busiest travel season (in the summer). This will help you avoid long lines.
Talk to Locals: Don't be shy about engaging with the community. Many people think that Swedes are cold and distant, but I can tell you from personal experience that this is not true. The locals are friendly and ready to help you with advice and suggestions. And there are small chances that the language is going to pose a problem, because most Swedes know English, at least to some extent, no matter their age.
🗣️ Still, if you encounter communication issues due to language barriers, here's how to overcome them.
Try the Local Cuisine: A key component of Stockholm's cultural experience is sampling traditional Swedish cuisine and taking a fika (coffee break). Don't pass up the chance to sample regional cuisine.
You can make the most of your time in Stockholm and guarantee that your trip is not only memorable but also stress-free and pleasurable by keeping these practical suggestions in mind.
Conclusion
As your three days in Stockholm come to an end, you've had the chance to discover both this city's historic heart and modern soul, and even gone into the tranquil beauty of the archipelago. You've surely been changed by Stockholm's fascinating culture, long history, and breathtaking scenery.
You've experienced the allure of Gamla Stan, indulged in the Swedish cuisine, appreciated modern art, and basked in the natural splendor of the archipelago throughout your schedule.
But keep in mind that Stockholm is a city with numerous facets and countless undiscovered treasures. Although you have had a thorough introduction to the city from this 3 day itinerary, there is always more to discover. Don't be afraid to explore new neighborhoods, engage with locals, and make up your own Stockholm story.
As you prepare to depart this captivating city, take with you the echoes of medieval alleys, the flavors of Swedish cuisine, the inspiration of contemporary art, and the serenity of the archipelago. Stockholm, with its distinct character and allure, will always welcome you back for another adventure.