Everywhere I look, I see bloggers praising the German Christmas Markets. This year I've visited two of them myself (Berlin and Potsdam), but turns out lately Romania has a better alternative: Bucharest Christmas Market. Don't worry if you never heard of it so far, the truth is that until this year it wasn't really worth mentioning. Now things have changed, including it's location, size and number of integrated activities. Now it's one of the best Christmas Markets in Romania.
Bucharest Christmas Market is located right in the heart of the city, in Constitution Square (Romanian: Piata Constitutiei). This is where you will find the Palace of the Parliament, which is the second largest administrative building in the world, after the Pentagon (USA). The Old Town, which is an endless source of fun and entertainment, is very near. Moreover, Bucharest always fills up with Christmas lights, so strolls around the city will be a pleasure. Unlike the market's previous location, the Constitution Square provides enough space for an event of this size to take place.
The wooden booths are well placed, so that they don't look cramped. The market has a great diversity of things on display, from Christmas decorations and traditional handicrafts to delicious foods and drinks. People from all over the country come here to promote and sell products from their region.
Here you can find impressive pottery, with intricate traditional details.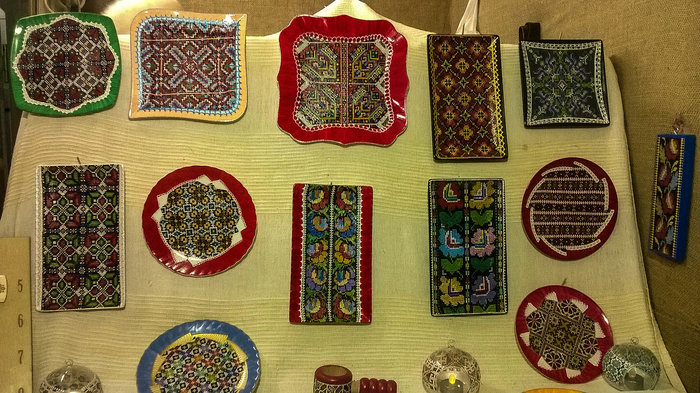 More over, Bucharest Christmas Market is one of the few places where you can buy Horezu ceramics. This is a well-known type of Romanian handmade pottery, included in the UNESCO Intangible Cultural Heritage List.
If you're interested to discover furthermore the Romanian culture, you might enjoy the booths with traditional blouses from different parts of the country.
Bucharest Christmas Market is also the place to be if you're looking for gifts and souvenirs. You can choose from many types of decorations, personalized objects, jewelry, handmade figurines, natural beauty products and much more.
And if you start to feel cold, you can warm up with a cup of hot tea or mulled wine.
If I learned something over the years, is that you can't say you truly experienced a Christmas market until you try out some of the foods served there. And in this case, there are just so many possibilities! Whatever it is you are looking for, you will find it here: meat products, different kinds of cheese, baked goods and desserts (like candy, honey, jam, etc.).
A stage is installed right in front of the market, guaranteeing constant entertainment for the visitors. The stage is used for music concerts, live carols and other events.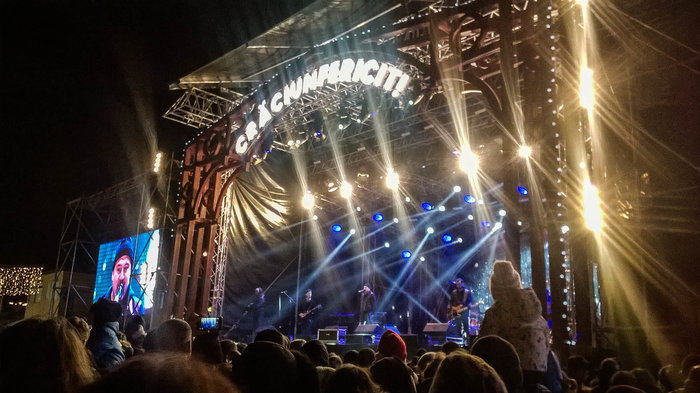 Another point of interest at Bucharest Christmas Market is the ice skating rink, which is a great place for both kids and adults to have a great time and skate with Santa's elves.
And those are not the only things the Bucharest Christmas Market had to offer to kids. There is also a Santa Claus House, where the little ones can can take a photo with Santa itself and they can tell their wishes for Christmas.
You can find more information on the market's official website. Other than that, I said it before and I'll say it again: for me this market is the best I've seen this year. If you have the chance to see it, don't miss it. Bucharest Christmas Market will be open until December 30th.