Prague is an old city with a young spirit. It is very diverse, starting with different architectural styles, both old and new, and ending with thriving nightlife, cultural events, overcrowded tourist sights and chill, quiet spots. One can argue that this city has it all. Laying on both banks of the river Vltava, Prague offers scenic amazing views and a ton of Instagrammable places, so keep your camera ready! You'll find below 10 must-see attractions in Prague, both usual and unusual, crowded or laid-back, perfect for any type of traveler.
1. Charles Bridge
Charles Bridge is the most popular landmark of Prague, a place where people come to stroll and admire the scenic views of Vltava River, plus the 30 famous statues and statuaries that decorate the whole bridge, on both sides.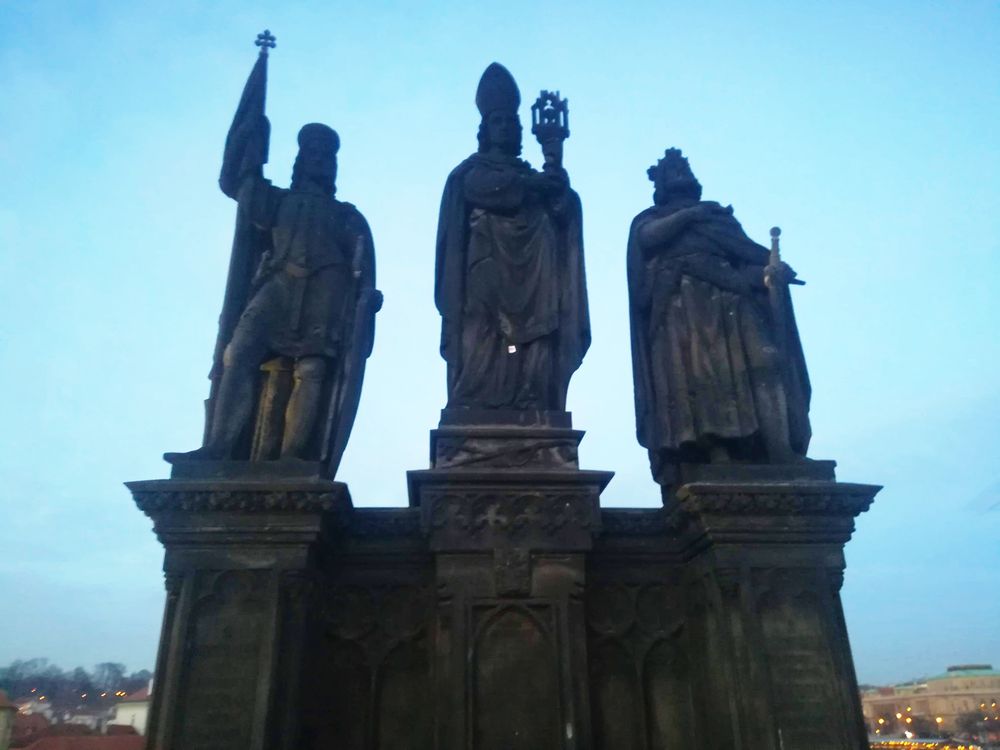 Where Charles Bridge stands today, once stood a wooden bridge that was washed out by the whirling waters of Vltava River in the 11th century. The building of another bridge followed, but this time it was made of stone. It was called Judith Bridge and it was actually the first stone bridge to ever connect the brinks of the river. It only survived until 1342, when another flood destroyed it.
The bridge as we know it today was commissioned by King Charles IV in 1357 and was completed in 1402. Until the 19th century it was called Prague Bridge or The Stone Bridge and only after that it took its name after its maker.
Because it is usually very crowded, I recommend visiting it as early in the morning as possible, especially if you want to snap amazing photos, without other people interfering. Besides, the soft light of dawn makes the stone bridge look almost magical.
2. Old Town Square w/ the Astronomical Clock
The Old Town Square of Prague is one of the most famous squares of Europe. It is quite impressive in size and surrounded by old, historic buildings: the Church of St. Nicholas, the Church of Our Lady before Tyn, The Town Hall or the Astronomical Clock – only to name a few.
The centre is dominated by the Monument of Jan Hus, an important religious reformer that was burned at the stake in that very spot in 1415. The square has witnessed many more events over time, including more executions and a king's coronation.
Among all the things that caught my eye in Old Town Square, there was one thing that really captivated me: the before-mentioned clock. What's amazing about it is that it is the third oldest astronomical clock in the world… and the only one still working. It dates back to 1410 and was created by Jan Šindel. A legend says that the city councillors of that time ordered that Jan was blinded so that he couldn't make a copy of the clock, therefore preserving its unicity. Yikes!
3. Prague Castle
Dating all the way back in the 9th century, this is the largest medieval castle in the world! Yes, it literally holds this title in the Guinness Book of World Records. Located on top of a hill, the Prague Castle area offers spectacular views over the city and Vltava River. It's a huge complex that includes the Old Royal Palace, St. Vitus Cathedral, St. George's Basilica, Golden Lane with Daliborka Tower, Rosenberg Palace and the Great South Tower.
It is free to visit Prague Castle from the outside, but to enter in the buildings listed above, you will need tickets. Except St. Vitus Cathedral, which was previously a paid attraction, but now it is free! Coming back to Prague Castle's complex, I must specify that I didn't get to see all the buildings from the inside, but based on what I did get to see, I would recommend spending the money to dive into the whole experience.
4. St. Vitus Cathedral
Although it is within the grounds of Prague Castle, I really feel this cathedral deserves its own spotlight. Prague is also known as the city of one hundred spires and St. Vitus has definitely helped in acquiring that nickname. The cathedral has tall spires that rise up to 96.5 meters and are visible from far and wide in all directions.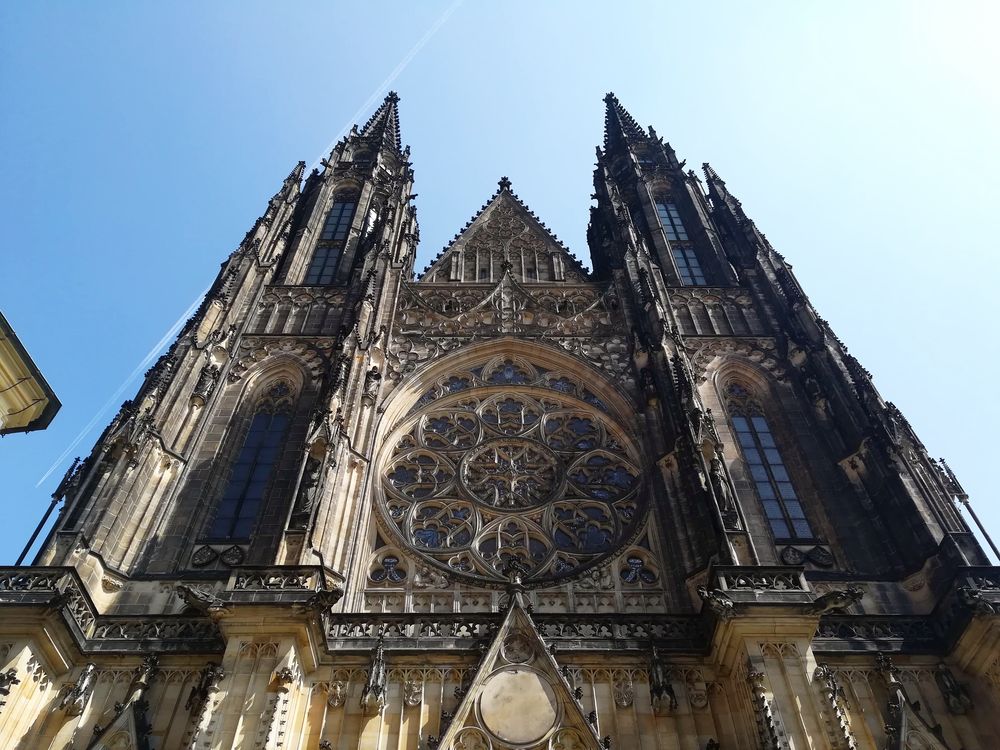 St. Vitus Cathedral contains the remains of royal figures (including King Charles IV, who commissioned Charles Bridge), bishops, archbishops and even a saint – St. Wenceslas, the holy patron of the Czech nation.
5. National Theatre
The National Theatre is a beautiful example of neo-Renaissance architecture. It is both a symbol of culture and of solidarity, because it was built with donated funds, not once, but twice. The second time was actually a massive renovation after a fire that engulfed the whole building. Both rich and poor Czech citizens contributed to raise the money needed for the reconstruction in just a few weeks.
The National Theatre houses three types of cultural performances: drama, opera and ballet. Even as a tourist, you can choose from a selection of performances that are intended for non-Czech speakers.
6. The Dancing House
The dancing House is a postmodernist building, belonging to the deconstructivism movement more specifically. It consists of two towers that appear to be dancing with each other. Because of their unique shape, the two merging towers are also known as Ginger and Fred, after famous dancers Ginger Rogers and Fred Astaire.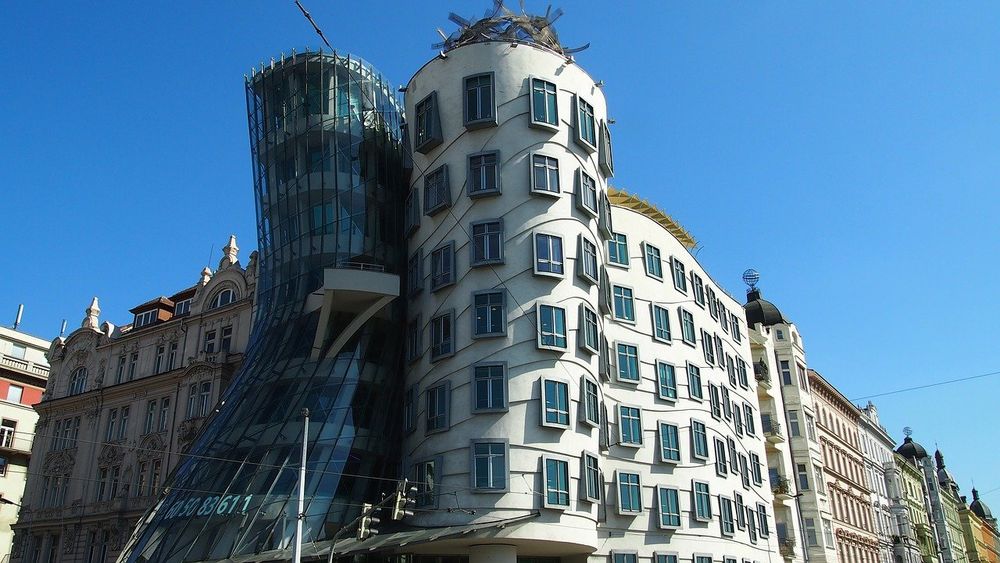 Although it appears to be in antithesis with the surrounding scenery of historic buildings, the tourists love it. It has become common practice that people include this place on their list of must-see attractions.
Curious what this peculiar building looks like on the inside? Although most of the Dancing House is used as an office building and it is closed to the public, there is a bar and restaurant operating on the rooftop and offering spectacular views over the city. There is also a luxury hotel and an art gallery available in the building.
7. Lennon Wall
This wall came to fame in the 1980s, after the assasination of John Lennon, when it started to be painted with images and texts inspired by the Beatles' songs. That quickly transformed into something that provoked the communist regime of that time to react against this peaceful manifestation of art. In the end, there was even a violent encounter between police and students defending their right to express themselves freely.
Over time, it piled up many colorful layers of paint and graffiti. Even nowadays, the appearance of the wall is constantly changing, but now it is completely legal to put your mark on it, if you wish. It is definitely a place that emits good vibes and has the power to put a smile on the face of any visitor. Plus, it is a good place to take selfies for Instagram.
Fun fact: This wall in Prague has become such a symbol that the concept of "Lennon Walls" also appeared in other parts of the world. For example, during the Hong Kong protests, the people started colorfully decorating walls to express dissatisfaction with the government. Then, New York, Seattle, San Francisco, Taipei and other cities followed the lead.
8. Petrin Hill
When you're ready for a walk and some fresh air, check out Petrin Hill. It is close to the old historic town and it is one of the largest green areas in Prague. There are quite a few things to do and see here: memorials, gardens (Nebozízek, Seminary, Rose Garden), a mirror labyrinth (exactly what it sounds to be) and a tower.
This tower is called Petrin Observation Tower, is located at the top of the hill and it resembles a mini Eiffel Tower. You can take the elevator or climb its 299 steps to the top for amazing views. Also at the top of Petrin Hill, there is the Church of Saint Laurence, with a Baroque facade.
9. Letna Park
Letna Park is situated on a plateau above the city. It is a meet up point for many young people, especially skateboarders. You can see them everyday next to a huge metal structure which stands tall, piercing the sky. If you're wondering what that is or what it represents, you are not the only one. I found out only after I left the park that it is actually a working metronome that stands right where a giant statue dedicated to Stalin was placed in the past. And when I say giant… I mean giant. It measured 22 meters in length and 15.5 meters in height, making it the largest group statue in Europe until 1962, when it was taken down.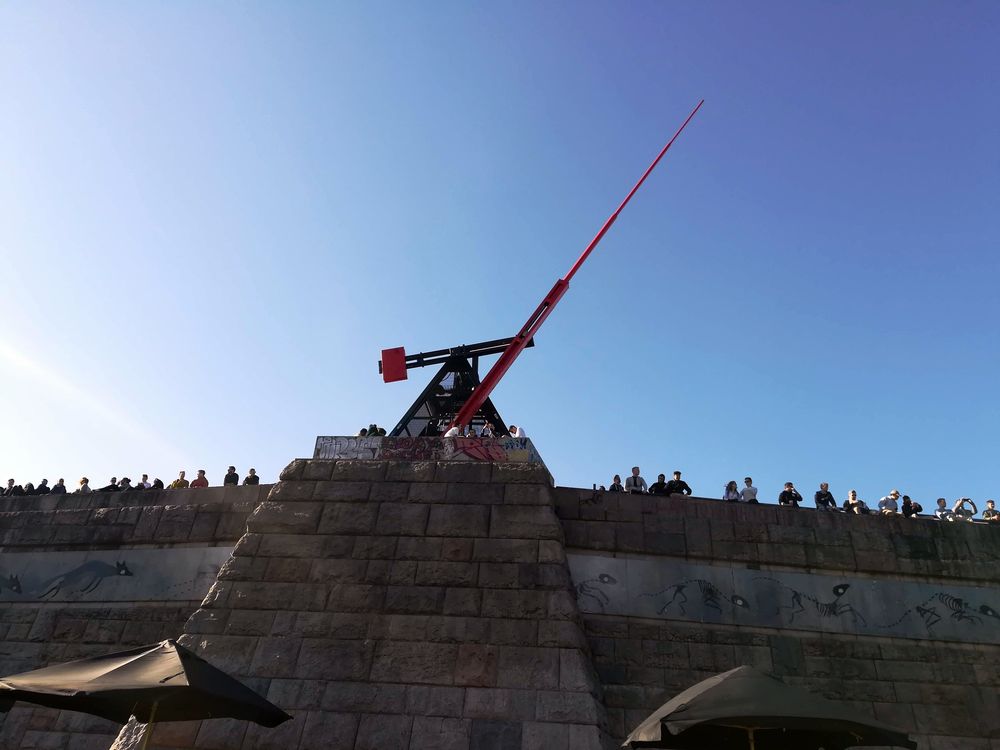 There is also a building that might catch your eye: Hanavsky Pavilion. What you should know about it: it was built in 1891, as the first cast iron structure in Prague and it's a fine example of Art Nouveau architecture. Also, it houses a restaurant where you can go and drink a cold Czech beer.
10. Museum and Statue of Franz Kafka
Prague takes great pride in being the city where Franz Kafka was born and wrote many of his famous works. The house where he was born no longer exists, but in front of the place where it once stood, there is a modern sculpture of Kafka's head. What's amazing about it is that it consists of 42 layers that are rotating and at some point line up and make the actual sculpture.
In Prague there is also a museum dedicated to the life and work of the world renowned writer. If you are a fan of his work or you just want a sneak peak into the mind of one of the most influential writers of the 20th century, check out this museum.
Bonus Prague attraction: Žižkov TV Tower
Žižkov TV Tower is the tallest building in Czech Republic (216 meters), but that's only one of the reasons why I recommend going there. At 93 meters the tower has an observation point, with a bar and restaurant and I feel it's useless to explain what kind of view you can expect from up there. At the height of 70 meters there is a hotel… with only ONE room! Pretty exclusive, huh?
Now here's where it's getting a little weird.The tower stands on the grounds of a former Jewish cemetery, which stirred a little controversy when it was built. If you would like more creepy pasta, you should also know that ten statues of crawling children with barcodes on their faces are attached to the pillars. The whole design of the tower is unique in the world, but considering that VirtualTourist.com declared it the second ugliest building in the world in 2009, I don't know if the architect should be proud of himself or not. You decide.
And there you have it, these are my top suggestions of attractions you should check out while in Prague. The city of 100 spires is a successful mix of old and new, traditionalism and modernism. There are many more famous places or hidden gems to be discovered and while I am aware of some of them, I would love to hear suggestions from people that already know the city. Hit me up in the comments below if you have some!