Vienna is an amazing city all year round, but during Christmas time its wide streets and beautiful Baroque buildings transform under glimmering lights. Therefore, in November-December, it is one of the most desired destinations in the world. It's obvious why it holds the top spots in people's preferences: it has tradition, beauty and a great deal of Christmas Markets. Basically, if you see a square, you see a market, but because time is a limited resource for all, you might want to know which ones are not to miss.
1. Christmas Market on Rathausplatz
One market to rule them all! This is it. The largest and most impressive Christmas Market in Vienna, featuring around 150 stalls, an ice skating rink, colorful lights and enticing smells of mulled wine and gingerbread. It is located on Rathausplatz, the square that offers a beautiful background for the whole event: The City Hall.
In 2019 the Christmas Market on Rathausplatz is open from November 15th to December 26th.
2. Art Advent on Karlsplatz
Its name is pretty self-explanatory. Come and pay a visit if you love art, crafts, different types of handmade trinkets, homemade and organic products and so much more. Moreover, the advent has quality musical performances.
In 2019 the Art Advent on Karlsplatz is open from November 22nd to December 23rd.
3. Winter at MuseumsQuartier (MQ)
MuseumsQuartier offers an alternative to traditional Christmas Markets. It replaces the Christmas lights with modern art decorations and the carols with DJ music to give the visitors a whole new experience.
In 2019 Winter at MQ is open from November 7th to December 23rd.
4. Maria-Theresien-Platz Christmas Village
Located between the Museum of Art and the Museum of Natural History on Maria-Theresien Platz, the Christmas Village is fairly quiet, yet festive.
In 2019 the Museums Quartier Christmas Market is open from November 20th to December 26th.
5. Belvedere Palace Christmas Village
In the beginning, I was mentioning Vienna's beautiful Baroque buildings. A great example is the two baroque palaces in the Belvedere area, which form a UNESCO World Heritage site. In front of Upper Belvedere Palace, you will find a small and cozy Christmas Village, perfect for a romantic, slow-paced walk.
In 2019 the Belvedere Palace Christmas Village is open from November 22nd to December 31st.
6. Christmas Market Freyung
The Christmas Market on the Freyung is the oldest Christmas market in Vienna, its first establishment dating back to 1772. This is a traditional market, not only around Christmas but almost all year round. Because of that, you can find here mostly products brought by farmers from nearby areas and all sorts of arts and crafts made by skilled craftsmen.
In 2019 the Christmas Market Freyung (Altwiener Christkindlmarkt) is open from November 16th to December 23rd.
7. Imperial and Royal Christmas Market
While in Vienna, the Hofburg Palace complex is definitely not to miss. It houses Sisi Museum, the Imperial Apartments, and Silver Collection, all worth visiting. And while you're here, you will notice a very discrete market going on in Michaelerplatz, the large square in front of the complex.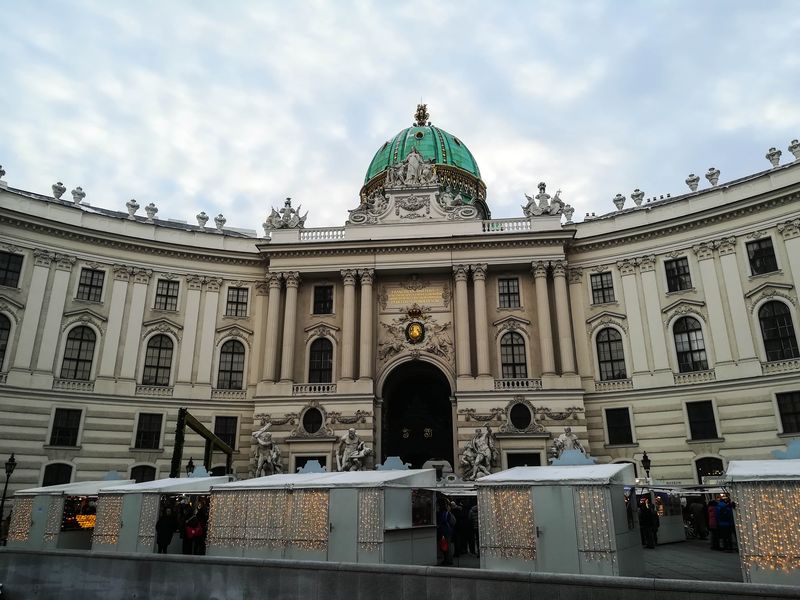 In 2019 the Imperial and Royal Christmas Market is open from November 12th to January 1st.
8. Christmas Market on Stephansplatz
Because this was the first Viennese Christmas Market I ever saw, it will always have a special place in my heart. It goes around St. Stephen's Cathedral, a magnificent example of Gothic and Romanesque architectural styles. The market might not seem big to you, but don't be discouraged. It has a bit of everything: scented candles, ceramic objects and quite a lot of options for good food: sausages, doughnuts, chocolate. Another thing that I recommend is mulled wine. It comes in red mugs shaped like little boots and they're incredibly adorable!
In 2019 the Christmas Market on Stephansplatz is open from November 15th to December 26th.
9. Schönbrunn Palace Christmas Market
Ok, ok, real talk. You can't miss this one. I repeat, do not miss this one. It is not within walking distance like the majority of the markets listed above, but the location is worth the struggle. If you also want to visit the palace (which I def recommend), you should do that first and then come back to the Christmas Market and enjoy some hot mulled wine and mouth-watering sweets.
In 2019 the Schönbrunn Palace Christmas Market is open from November 23rd to January 5th.
10. University Campus Christmas Market
This market attracts a young and fun crowd every year. Besides the usual stalls that offer food, drinks, gifts, and decorations, there is also a fair with a Ferris wheel.
In 2019 the University Campus Christmas Market is open from November 15th to December 23rd.
Of course, if you have a longer stay in Vienna, you can also roam the streets to try and find as many Christmas Markets as you can. Give yourself a treat after each find and the hunt will be even more fun and rewarding!