Volunteering is a selfless act that crosses all borders and backgrounds, allowing people to show kindness and create change. Moreover, it's often an enriching experience, offering people the chance to learn and connect on a deeper level. Volunteering is not only for those who want to help their local, less-fortunate communities. They can also take advantage of opportunities to do good to feed their passion for travel at the same time, by going to far-away areas of the world. But what about those that constrained by time and can't be away from home for long periods of time?
The idea of abroad short-term volunteer opportunities fills this gap between the desire to make a difference, the passion for travel and the demands of a busy life. In this article, we look into the world of short-term volunteering, investigating its pros and cons, different sectors where impact can be made, and how to choose the best program for your objectives. From teaching in remote villages to aiding disaster-stricken regions, short-term volunteering opens doors to meaningful experiences that resonate even within the limitations of time.
Understanding Short-Term Volunteer Abroad Opportunities
Short-term volunteer opportunities abroad have developed as an option for those who want to have significant impact while juggling the demands of a busy life in the exciting world of volunteering, where compassion meets action. Short-term volunteer opportunities offer a special way to make a difference, whether you're a student on vacation, a working professional with little free time, or someone who wants to get a taste of the world of international volunteering.
Defining Short-Term Volunteer Abroad
Opportunities for short-term volunteer work abroad are distinguished by their brief duration, which typically ranges from a few days to several weeks. In contrast to its long-term counterparts, which may call for commitments over the course of months or even years, short-term programs are designed for those who only have a short amount of time to spend in a fulfilling and immersive experience. This brief period is frequently designed to meet the needs of those whose commitments to job, school, or other activities could prevent them from engaging in lengthy volunteer work.
The Distinct Appeal of Short-Term Volunteering
Short-term volunteer opportunities in other countries are alluring because they combine a sense of adventure with a desire to have a positive impact. This type of volunteering meets the needs of people who want to explore different cultures without sacrificing their academic or professional development. By taking part in short-term programs, volunteers can travel to new places, get to know the local culture, and give their time and talents to causes that inspire them.
Making a Difference in a Condensed Timeframe
The idea of driving significant change in a short amount of time is both alluring and feasible in a society where everything moves hastily. Volunteers can focus their efforts on initiatives that have an immediate impact by participating in short-term volunteer opportunities. People can witness immediate results of their efforts, which increases their sense of fulfillment and purpose, whether they are developing facilities, assisting local healthcare programs, or teaching children fundamental skills.
Gaining Exposure to Diverse Projects and Issues
The exposure to a wide variety of projects and social challenges that short-term volunteer programs offer is what makes them so appealing. Volunteers can choose causes that align with their passions, giving them the chance to learn more about a variety of fields, including education, healthcare, conservation, and humanitarian assistance. If they decide to continue their volunteer path, this exposure not only broadens their understanding of global issues but also gives them the ability to make future contributions to a variety of initiatives.
Benefits of Short-Term Volunteer Abroad Opportunities
Short-term volunteering has many types of benefits that appeal to broad groups of people looking to give, learn, and travel. The essence of volunteering is captured in these condensed experiences, which also take into account the participants' busy schedules. These condensed experiences encapsulate the essence of volunteering while accommodating the busy lives of participants. Here, we explore the compelling advantages that make doing short-term volunteer work a life-changing experience.
1. Flexibility for Busy Schedules
Many people have the desire to make a positive impact on the world, but unfortunately we live in a society where work, education, and family obligations constantly pile up and time is an increasingly rare resource. These realities of modern life are addressed by short-term volunteer opportunities, by accommodating people who might not have the freedom to travel for an extended period of time. Short-term volunteering offers alternatives that range from a few days to a few weeks, giving participants a chance to get involved even if they have busy schedules.
2. Immersive Cultural Exchange
Even though they are brief, short-term volunteer opportunities promote intense cross-cultural interactions. Volunteers have the ability to mingle with locals, get involved in their communities, and learn about various lifestyles. This direct interaction offers a unique perspective on a destination that might not be fully attainable through conventional tourism.
3. Tangible Impact in a Condensed Timeframe
Possessing the power to effect significant change in a condensed amount of time is one of the most alluring features of short-term volunteering. Volunteers focus their skills, passion, and energy on initiatives that meet urgent needs and have a long-lasting effect on the communities they support. The shortened time frame heightens the sense of urgency and motivates volunteers to contribute as much as possible.
4. Exposure to Varied Projects and Causes
Short-term volunteering is a great opportunity to explore various fields and projects without committing to a long-term position. Having the option to select programs that are in line with their interests allows volunteers to learn more about a wide selection of topics, including education, healthcare, environment, and disaster response. This exposure empowers volunteers to broaden their horizons and potentially discover new passions.
5. Professional and Personal Growth
Short-term volunteer work abroad also provides opportunities for both professional and personal growth. In dynamic, multi-cultural contexts, volunteers practice soft skills like adaptability, communication, problem-solving, and teamwork. These experiences can enhance their resumes (particularly helpful for young people with no or very little work experience) and contribute to their personal growth.
6. Accessible Entry Point to Volunteering
For those who are new to volunteering abroad, short-term programs offer a convenient entrance point. They provide people the chance to have a taste of the world of service without committing for a lengthy period. This can be particularly appealing to those who want to test the waters before making more significant commitments.
7. Enhanced Global Perspective
Short-term volunteers develop a deeper knowledge of the global inter-connectivity by immersing themselves in other cultures and contexts. These encounters contribute to developing qualities like empathy, openness, and an appreciation for different viewpoints.
In essence, the opportunities for short-term volunteer work offer a platform for both personal development and meaningful impact. We discover a wide variety of experiences as we investigate the world of short-term volunteering that, despite their temporary nature, have the potential to change lives—both of volunteers and the communities they serve.
Factors to Consider Before Volunteering Abroad Short-Term
To ensure a fulfilling and gratifying experience, it's crucial to take into account a number of important factors before embarking on a short-term volunteer journey, especially if you're going abroad. There is no denying the appeal of having an impact in a short amount of time, but choosing a programe that fits your objectives and values requires careful planning and research.
1. Personal Goals and Skills
What do you expect to accomplish through the short-term volunteer experience? Determine your areas of expertise, passions, and abilities that you can bring to a project. Whether it's teaching, healthcare, or conservation, aligning your goals with the right program ensures a mutually beneficial exchange.
2. Selecting the Destination
Pick a region that appeals to your interests and cultural curiosity. To make sure you're ready for the trip, learn about the local challenges, language, and customs of the country. Also, select a location that aligns with your comfort level and willingness to embrace new surroundings.
3. Researching the Organization
Do careful research on potential short-term volunteer opportunity providers. Seek out trustworthy organizations with transparent objectives, good reviews from prior volunteers, and a track record of sustainable impact. Verify their commitment to moral guidelines and dedication to ethical volunteerism.
4. Evaluating Program Impact and Sustainability
Assess the program's potential impact on the community. Responsible short-term programs should place more emphasis on long-term development-oriented efforts than on those that only serve to maintain dependency.
5. Program Costs and Transparency
Identify the program's financial requirements, such as fees, accommodation, and additional expenses. Reliable organizations offer transparent cost breakdowns and information on how your money is spent. Programs that lack transparency or seem overly inexpensive should be avoided.
6. Support and Cultural Integration
Take into account how much assistance the organization offers. A smoother experience is directly linked to receiving adequate pre-departure information, on-site orientation, and round-the-clock support. An organization that prioritizes cultural integration and respectful engagement ensures you're well-prepared for interactions with the local community.
7. Duration and Timing
Pick a program length that works with your schedule and objectives. The length of short-term programs varies, so think about how much time you can dedicate. Additionally, evaluate the program's timing to ensure it fits within your personal and professional obligations.
8. Health and Safety
Prioritize your health by learning about the necessary vaccines, health precautions, and travel warnings for your targeted destination. Confirm that the organization has protocols in place to address potential health and safety concerns.
In sum, taking the time to evaluate these factors before embarking on a short-term volunteer abroad journey sets the stage for a rewarding and impactful experience. By making informed choices, you can ensure that your contribution aligns with the needs of the community while fostering personal growth and cross-cultural understanding.
Exploring Different Short-Term Volunteer Abroad Programs
Programs for short-term volunteering abroad provide a wide range of opportunities, spanning across various fields and causes. From education to environmental conservation, each program provides a chance to make a difference while immersing yourself in a new culture. Here are some examples of types of projects you can work on:
1. Education and Teaching Projects
By teaching adults and/or children in underprivileged communities important skills, you may support educational programs. Support local educators, create curriculum, and promote a learning atmosphere that encourages people to pursue a better future.
2. Community Development and Infrastructure Initiatives
Take part in initiatives that aim to enhance the living conditions, sanitation, and infrastructure of marginalized populations. Build houses, community centers, or schools, and aid in the development of long-lasting improvements that enhance the quality of life for locals.
3. Environmental Conservation and Wildlife Protection Efforts
Protect vulnerable ecosystems, endangered animals, and natural resources by working with conservationists. Participate in initiatives that help to protect the biodiversity of the globe, such as reforestation, marine conservation, or wildlife rehabilitation.
4. Healthcare and Medical Outreach Programs
Aid medical experts in providing vital healthcare services to remote populations. Participate in health education seminars, medical camps, and other programs designed to enhance residents' general well-being.
5. Disaster Relief and Emergency Response Projects
By offering assistance and support to impacted populations, you may play a vital role in areas affected by disasters. Assist with immediate needs such as food, housing, and medical care, contributing to the recovery and resilience of local populations.
6. Women's Empowerment and Gender Equality Initiatives
Participate in initiatives that help girls and women gain knowledge, develop skills, and get support in order to empower them and improve gender equality. Help break down barriers and create opportunities for sustainable change in the society they are living in.
7. Orphanage and Childcare Support
Provide care and attention to kids in orphanages and childcare facilities. Assist with daily activities, provide emotional support, and contribute to a nurturing environment for children in need.
8. Agricultural and Sustainable Farming Programs
Support sustainable farming practices that enhance food security and promote economic growth in rural communities. Engage in activities such as organic farming, crop cultivation, and agroforestry.
9. Arts and Culture Initiatives
Share your creative talents through arts and culture projects that promote self-expression and cross-cultural understanding. Participate in workshops, exhibitions, and projects that honor local customs and artistic background.
10. Language and Communication Projects
Help with language learning programs to empower locals to become more linguistically proficient for better employment and educational opportunities. Foster linguistic exchanges and aid in the improvement of communication abilities.
Every short-term volunteer project that takes place abroad gives a different viewpoint on world issues and local needs. These programs offer an opportunity to make a difference while witnessing the rich tapestry of cultures that make this planet so lively, whether you have a passion for education, healthcare, conservation, or another field.
Showcasing Reputable Short-Term Volunteer Abroad Organizations
Working with renowned organizations offers a secure, worthwhile, and rewarding experience. Listed below are a few reputable organizations that provide a variety of initiatives meant to have a real impact: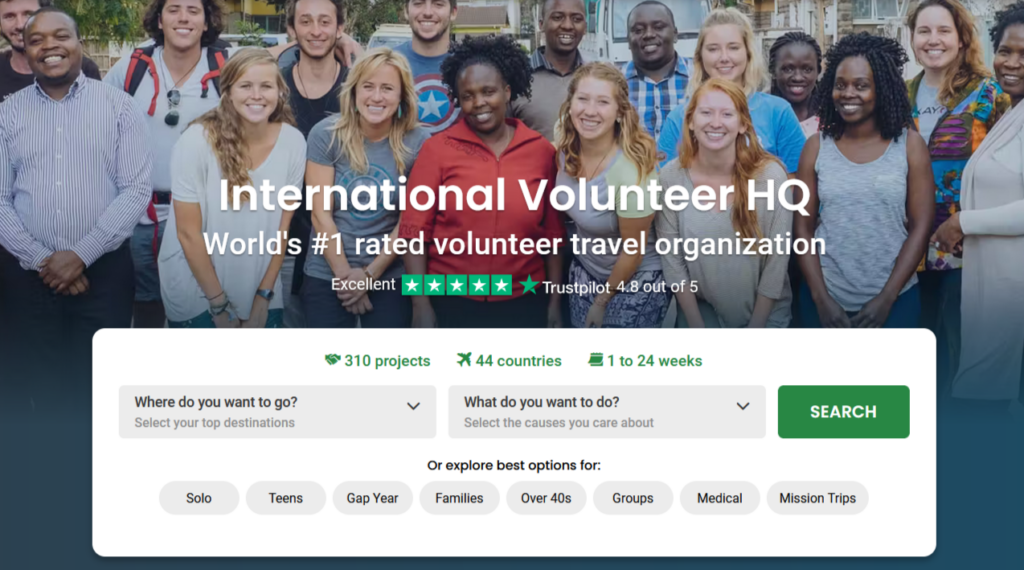 Offering short-term volunteer options that are flexible and affordable, IVHQ's programs range from teaching and childcare to community development and environmental actions. With projects in 44 countries all around the globe, you can choose a destination that speaks most to you by filtering projects either by country (if you have a specific one in mind) or by continent. The organization is specifically focused on short-term projects, ranging anywhere from 1 to 24 weeks. Their volunteering options are diverse and address various categories of people, including teens, families or groups of volunteers, people over 40 and many more. Please note that the accommodation options might vary depending on your age and circumstances. For example, if you're 20 something you might sleep in shared dormitories, whereas families might benefit of more private rooms.
The program fees include benefits like accommodation, breakfast and dinner, airport pick-up, training and support, plus discount for things like language lessons and tours.
The reputable organization GoEco offers a variety of short-term volunteer opportunities for anyone who wants to have a positive impact on the welfare of the planet. You can choose how many weeks you can dedicate to a project, depending on your availability and plans and it can be a minimum of one week and a maximum of 12 weeks. GoEco offers special programs that take place all over the world with a strong focus on environmental protection and community well-being. GoEco offers a wide variety of projects that cater to different interests and causes, from marine conservation initiatives in the crystal-clear waters of Greece to animal rehabilitation in the heart of South Africa.
The program fees cover the costs of meals and accommodation, as well as airports transfers, training and 24/7 support.
Although the Projects Abroad organization is suitable for finding both short and long term volunteering opportunities, it deserves a place on this list. Many projects can be attended for as little as one or two weeks if the participants don't have more time available. There are volunteer opportunities in fields like community development, healthcare, education, and conservation. Please note that this organization only has projects in 18 countries, unlike other options in this list that operate in significantly more destinations. Don't expect them to have the lowest fees either, but you can make sure you are in good hands with them and their ratings prove it. A big plus for them is the hands-on experience that you can gain in fields like physical therapy, dentistry, archeology or business. So, in a way, you are doing more than volunteering. You are gaining valuable work experience that you can use on your CV.
Maximo Nivel provides short-term volunteer programs combined with language immersion in Latin America. Although they also provide long-term opportunities (up to 52 weeks), you can also choose to help for one week (but they recommend at least 2 weeks). They provide projects in healthcare, construction, education, and child care, providing a wide-ranging cultural and volunteer experience. It's another great options for those who want to gain professional expertise in certain fields and to enhance their CVs. They have all inclusive programs – meaning that the program fee you pay will guarantee all meals, accommodation and many extras. This program might be for you if you're interested exclusively in volunteering in Costa Rica, Guatemala, or Peru, because the organization operates only in these countries.
Plan My Gap Year provides short-term volunteer opportunities in a number of locations, with a focus on initiatives including education, healthcare, and community development. Their activities are created to offer a balanced blend of impactful work and cultural engagement. As their name suggests, their primary target are young people (17-22 years old) that want to have an impact and take contact with new cultures across the globe, while taking a gap year.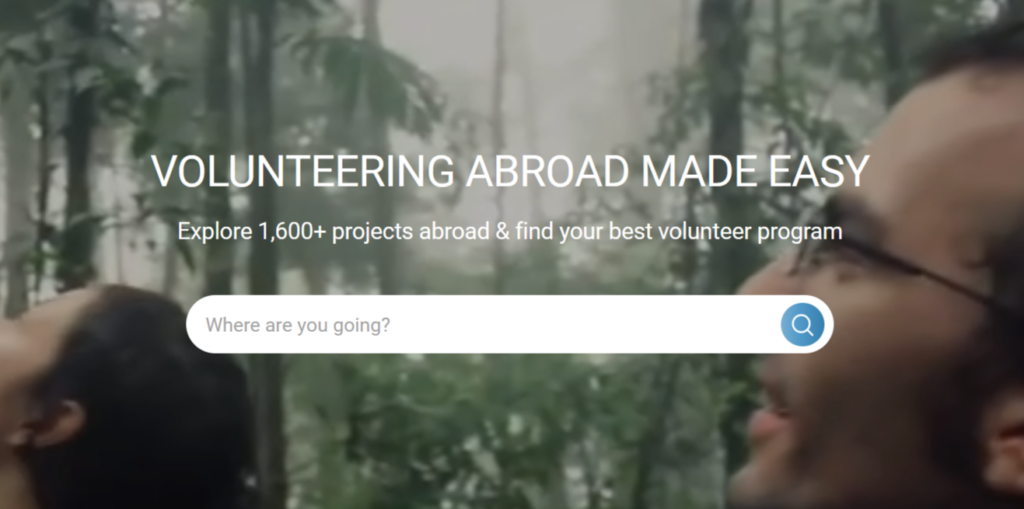 Volunteer World is basically an aggregator of volunteer programs abroad. This means you will find projects from many different organizations, including some in this list, all in the same platform. It enables volunteers to select opportunities that match with their interests and availability by taking a straightforward approach to program costs and project-specific information. So if you don't feel like going through many different websites to do research, this platform might be the solution to find the best option for a short-term volunteer opportunity.
Conclusion
Short-term volunteer opportunities abroad present themselves as a powerful pathway for significant change in the world of volunteering, where the need to make a difference and the demands of our busy lives collide. As we come to the close of our investigation into this transformative process, it is evident that these compressed experiences have the power to influence people's lives and communities, demonstrating that the size of one's contributions need not be constrained by the length of a year.
Short-term volunteering abroad closes the gap between aspiration and action by allowing flexibility for individuals with busy schedules, encouraging immersive cultural encounters, and enabling volunteers to make a real difference in a short amount of time. Such initiatives open doors to a variety of opportunities, regardless of your interest for community development, healthcare, environmental conservation, or education.
However, keep in mind that careful preparation and ethical considerations are essential when you set out on your short-term volunteer journey. Spend time matching your objectives to the appropriate project, pick organizations that have ethical and sustainable practices, and immerse yourself in the local cultures with respect and empathy.
In the end, the importance of short-term volunteer abroad experiences resides not only in the positive effects they have on local communities but also in the opportunities they provide for personal development and intercultural communication. These short journeys have the potential to leave enduring impressions on both volunteers and the communities they help, serving as a reminder that we can make a difference even our time-constrained lives. As you explore the world of short-term volunteering, may your journey be one of inspiration, learning, and meaningful impact.