Potsdam is like a breath of fresh air in the northern part of Germany. Its closeness to Berlin makes it a perfect destination for a day trip. Why choose this city over other so many other options to spend your time? Because it is different. Totally different from the spirit of Berlin and this shift is what it made me love it so much.
Suitable for: Couples, history buffs, food lovers and cinema enthusiasts
Although I recommend this city to everyone, couples and solo travelers might enjoy it more. Potsdam has this romantic vibe to it and it's inviting its visitors to stroll its streets and park alleys for hours on end. Many of its buildings are from the 18th and 19th century, so it is eye-candy for both history and architecture buffs. Also, the city has a lot of good restaurants and bars with different specifics. I tried German, Indian, Italian, Scandinavian, and I loved them all!
Best time to visit: Okay, so now you have options, depending on the stuff you want to do or what you like. If you want to see Potsdam at its peak, go there during the summer. Although the temperatures are high, they are comfortable. The drawback is that summer is also the most crowded season and the most expensive as well. If you want to avoid all that, Potsdam is also very nice to visit in spring months, because you'll have the chance to enjoy the parks, gardens and all the outdoor activities that the city has to offer. Another idea is to go there in November – December to experience the Christmas vibe. Germany is well known for its Christmas markets, so give it a shot!
Some fun facts about Potsdam:
Potsdam is the capital of the state of Brandenburg. And speaking of Brandenburg, I'm sure you know one of Berlin's most famous landmark, Brandenburger Tor. Well, Potsdam has its own version of the gate.
The city served as residence for many Prussian kings, including Frederick William I and Frederick the Great.
Potsdam made it on UNESCO World Heritage list with not one, not two, but with over 150 buildings, palaces and parks.
Potsdam holds the location of the largest large-scale film studio in the world: Filmstudio Babelsberg. The whole thing occupies an impressive surface of approximately 25,000 square meters. Over the years it produced famous movies like The Book Thief, Beauty and the Beast, Casino Royale or The Grand Budapest Hotel.
Tips:
Potsdam is really close to Berlin, only 25 minutes away by train. You can also take the bus or drive, the choice is yours. Visiting is doable in a day, but keep in mind that a day is still a short time so don't expect to see everything there is. Although Potsdam is often considered one of the best day trips from Berlin, you can also stay here a week and find new things to do and places to explore every day.
With that being said, let's dive into your personal guided tour for a full day in Potsdam:
1. Potsdam City Palace (Potsdamer Stadtschloss)
The City Palace building was by turn, the winter residence of German princes, kings of Prussia and German emperors (Kaisers). It is located in the Old Market Square, next to St. Nicholas Church. Unfortunately, it was heavily destroyed multiple times throughout history, nowadays having standing only the former palace stables.
2. St. Nicholas Church
St. Nicholas is one of Potsdam's most notable landmarks. Since its building finished (1837), the church has seen fires, wars, changes in its architecture. Nowadays it is a Lutheran church, with an important role in the locals' lives, housing many events, including concerts. St. Nicholas is 77 meters tall and from the top of the dome, which is open to the public, you can enjoy a vast view of Potsdam.
Tip: Since you're at the Old Market Square, you can also visit Potsdam Museum and find out more about the city history.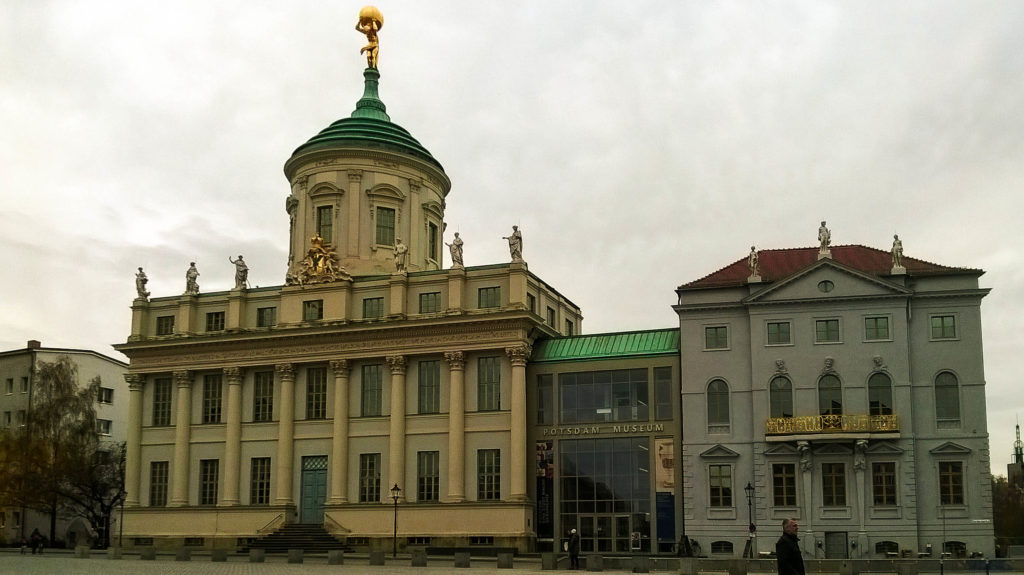 3. Sanssouci Park & Sanssouci Palace
Visiting Sanssouci Park is a nice way to spend a few hours in the outdoors, strolling on its alleys or having a picnic. The park is really big and it's filled with many buildings, gardens, fountains and statues. And speaking of buildings, we can mention: Chinese House, Antique Temple, Picture Gallery, New Chambers and of course, Sanssouci Palace, which used to be the summer palace of Frederick the Great, king of Prussia. Because of its beauty and complexity, the Sanssouci ensemble is often compared to the famous Versailles (France).
4. Potsdam's city gates (Nauen Gate, Hunter's Gate, Brandenburg Gate)
As the city expanded over time, some parts of the city walls got demolished and new ones were built instead constantly. Only a few gates fully survived in the process, others didn't and others were simply incorporated into other types of constructions, like houses.
If you want to see the only three gates that are still preserved, the best way to do so is to start at Brandenburg Gate, then walk along Schopenhauerstraße and turn right on Hegelallee. Go straight ahead and you'll see Hunters' Gate, then Nauen Gate a little further.
Brandenburg Gate
Since it shares the same name with the famous Brandenburg Gate from Berlin, people often confuse the two, but at the same time this confusion helped Potsdam's Brandenburg Gate gain a huge level of popularity. The structure resembles a triumphal arch, which it actually is, considering that the version we see today – previously there was another gate on the same spot – was built to honor the victory of Frederick the Great in the Seven Years' War. An observant eye will see that the arch is very similar to a Roman one and that will be correct. That is because the gate was built with having the Arch of Constantine from Rome as source of inspiration.
2019 alert: Although it is located in a public space, free to visit and all, you will not be able to see the gate if you visit Potsdam in 2019, as the structure is covered in scaffolds for renovation.
Hunters' Gate (Jägertor)
From all the fully preserved gates of Potsdam, Hunter's Gate is the oldest and also the smallest. Its name is pretty descriptive, considering that the royal hunting grounds used to start right beyond the gate.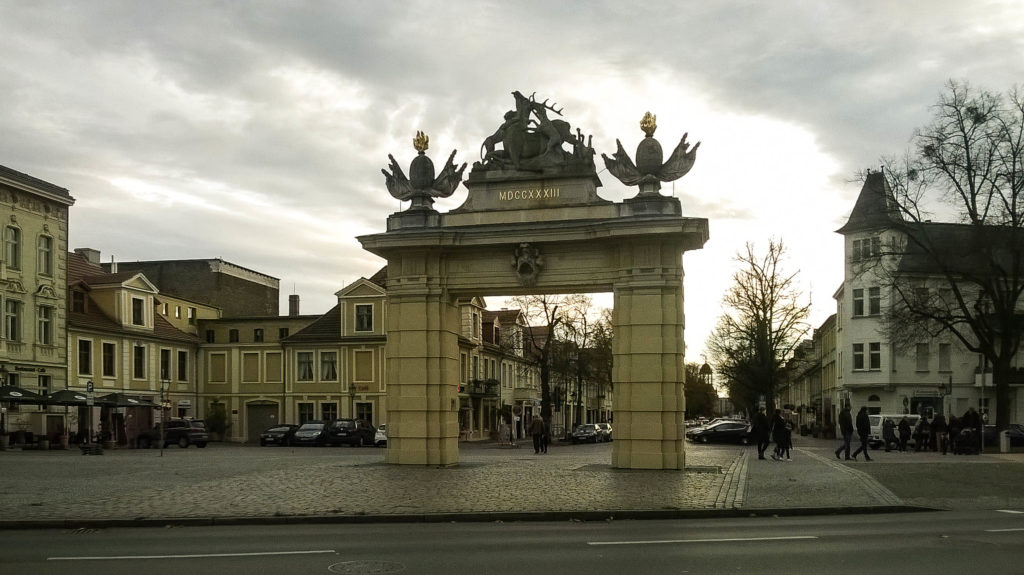 Nauen Gate (Nauenen Tor)
For me it was the most impressive out of the three, because of the fairytale vibe I got from it. The gate was built in 1755 in Neo-Gothic architectural style, after a sketch of Frederick the Great. It's central arched opening serves as a passing point for trams and buses, whereas the two smaller ones on the sides are for pedestrians. Also, it is located very close to the Dutch Quarter, our next stop.
5. The Dutch Quarter (Holländisches Viertel)
This neighborhood consists of a little over 130 houses, all built of red bricks between 1734 and 1742. It holds an amazing record: the biggest Dutch populated area outside Netherlands.There are two museums here, one dedicated to Johann Boumann, the architect of the area, and the other dedicated to the general history of the Dutch Quarter.
6. Alexandrowka, the Russian Quarter
This quarter was born from the friendship of Frederick William III with Czar Alexander. The quaint wooden houses are all built in Russian style and the whole neighborhood is now part of UNESCO World Heritage. Because of its location at the outskirts of the city, the quarter is very green and quiet, perfect for a stroll in almost any season. If you want a complete Russian experience, make sure to stop by the museum (although you will get only information in German), by the restaurant to try out traditional Russian dishes and beverages and also by the small Orthodox church located in the nearby forest.
7. Glienicke Bridge
Although surely it is not the biggest, the prettiest or the most elegant bridge you have ever seen, Glienicke Bridge played an important role in the history of Potsdam and not only, as it represented the border between West Berlin and East Germany during the Cold War. Because of its important role, it was used overtime as a place to exchange espionage agents, which is why it is also largely known as Bridge of Spies.
Bonus: Potsdam Christmas Market
Like I said in the beginning, if you happen to visit Potsdam in November or December, you'll get to experience the Christmas Market. Although it's not comparable in size with the one in Berlin, this one was my personal favorite, because it gave me a more intimate feeling and it had a less commercial vibe. In the middle of the stalls with ginger bread, mulled wine and the famous German sausages, there was a live performance of Christmas carols, which made everything appear even more magical than it already was.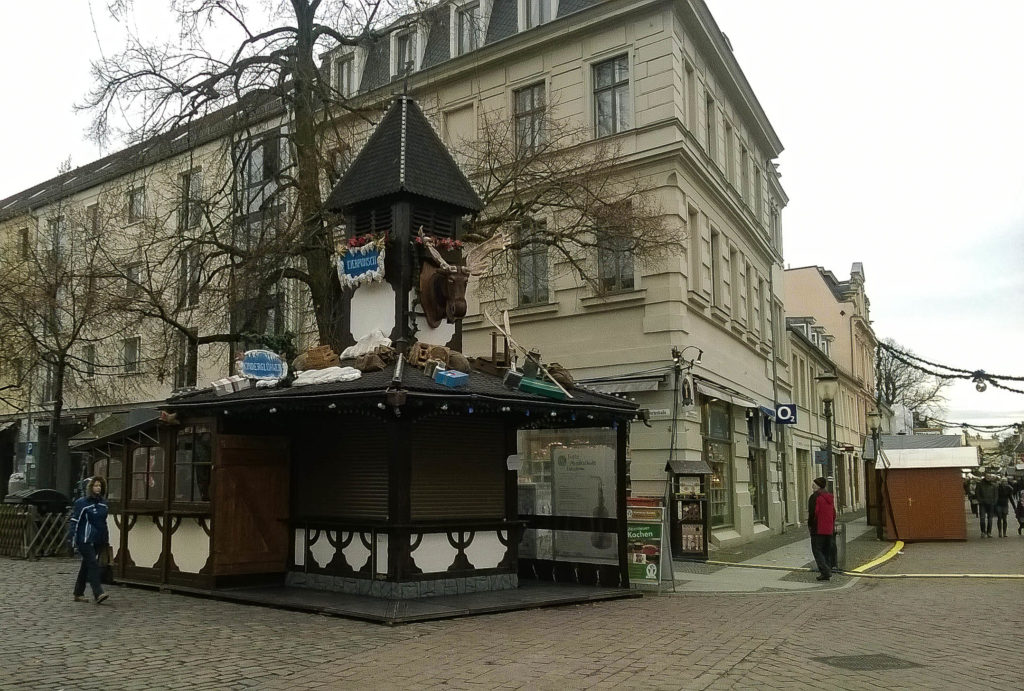 In conclusion, Potsdam is a place where you just have to go around the corner to completely change the scenery. It's a city constructed like a puzzle of multiculturalism, holding something exciting for everyone.
So have you ever been to Potsdam or if not, would you pick it for a day trip from Berlin? What caught your attention the most? Comment below and let me know what are your thoughts on this destination.